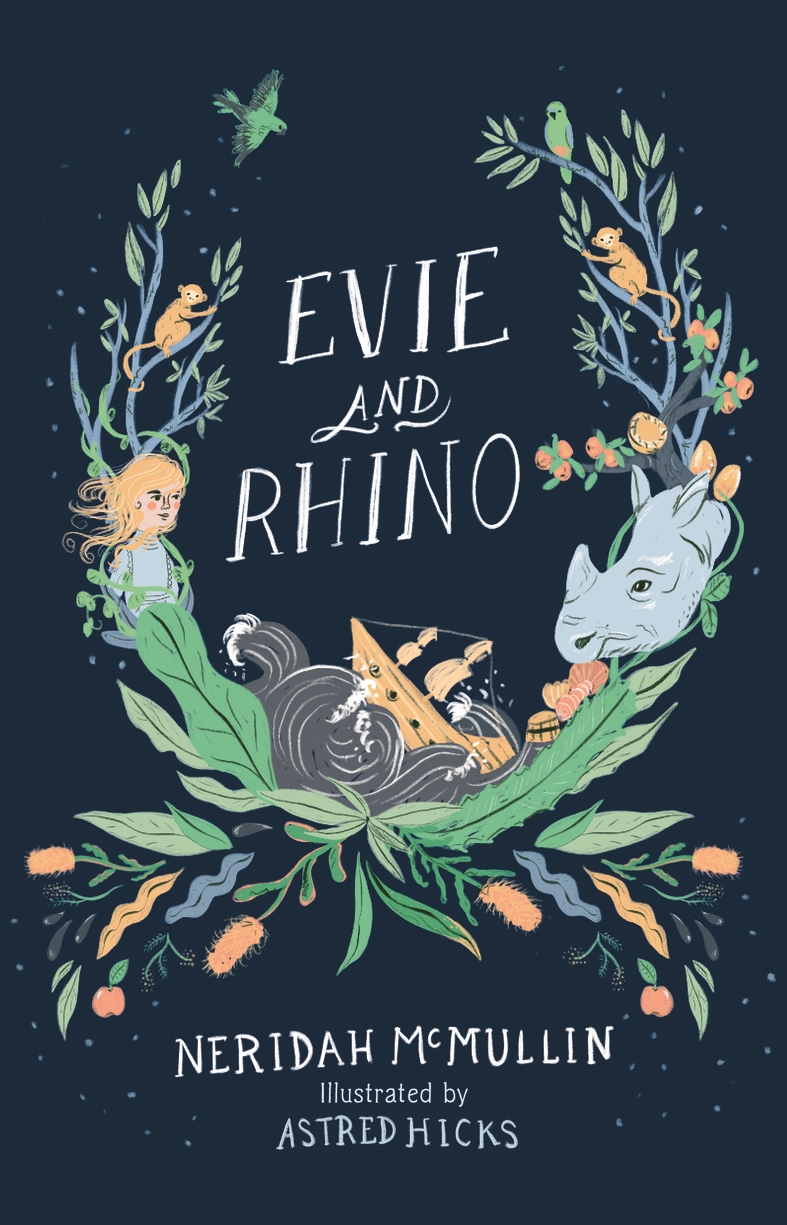 Evie and Rhino
By Neridah McMullin
Illustrated by Astred Hicks
Reviewed by Helen Gearing
Evie and Rhino is historical fiction at its finest – immersive in its worldbuilding without ever neglecting plot and character – and is perfect for readers aged nine years and older who are looking for a story about friendship, healing, and connecting deeply with nature.
When a cargo ship carrying exotic animals bound for Melbourne Zoo is shipwrecked off a remote coastline in southern Australia, an Indian One-horned Rhinoceros, Rhino, washes ashore to be discovered by ten-year-old Evie.
Evie, whose parents died two years earlier, sees something of her own grief reflected in the exhausted Rhino's face and offers him her wholehearted friendship.
While caring for him at the isolated manor house where she lives Evie begins to feel parts of herself she thought lost with her parents returning.
Evie's new-found joy in her friendship with Rhino is threatened however, when Evie and her grandfather receive word that representatives from the zoo are on their way to collect Rhino.
In the several weeks Evie and Rhino have together before the zoo officials arrive, they search for other animals who might have survived the shipwreck – and Evie makes plans to ensure she and Rhino will never be separated.
While the novel's premise – an unlikely friendship between a child and a wild animal – is not something new, McMullin's prose demonstrates the power of craftsmanship to turn a well-worn tale into something fresh and compelling:[Rhino's point of-view] The golden-haired child hangs off him. She's glowing with joy, as pure as sunshine after a storm. p.265
In fact, Evie and Rhino compares favourably with two modern giants of the archetype: Sarah Pennypacker's Pax and Hannah Gold's The Last Bear. Unlike these titles, however, Evie and Rhino presents the child and animal protagonists as equals whose relationship is built around a shared love of experiencing nature together – rather than a child-saviour and animal-recipient dynamic (notwithstanding that in the latter the animal also teaches the child important lessons).
Evie and Rhino is beautifully packaged by Walker Books and includes back matter which allows the reader to linger in 1891 even after the story ends, with a recipe from the period and an extended Author's Note. The illustrations and book design by artist Astred Hicks (who won this year's ABDA Australian Book Design Award for her cover design of Maryman Master's No Words) are exquisite.
Evie and Rhino deserves a space on any bookshelf. It would be a fantastic addition to any home or school library, and would be devoured by readers who loved The Last Bear, The Lost Whale, or Pax.