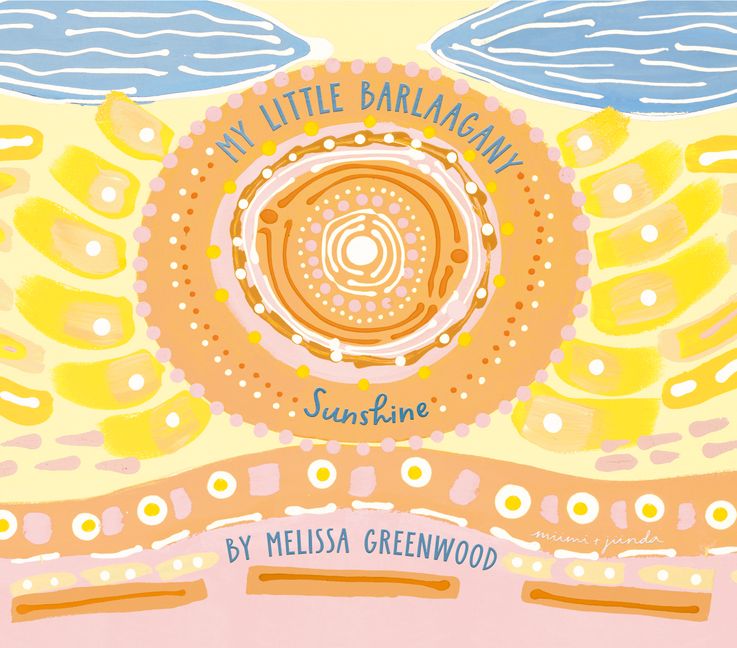 My Little Barlaagany (Sunshine)
By Melissa Greenwood
Reviewed by Lara Cain Gray
Author and artist Melissa Greenwood is a Gumbaynggirr woman, from the mid-north coast of NSW. She is a custodian of the language and culture of the region and is passionate about weaving the intricacies of her Aboriginal spiritual upbringing into her creative work. My Little Barlaagany is a beautiful demonstration of this, blending contemporary and traditional visual storytelling with a bilingual narrative that's enjoyable on multiple levels.
My Little Barlaagany follows the journey from day to night, as we farewell barlaagany (the sun) and welcome giidany (the moon). A mother encourages her child to say thank you for the gift of the night skies, and to trust the moon to light the way to sleep and into the Dreamtime, where the ancestors live. With cuddles from mum, the child can look forward to a peaceful night and exciting adventures to come with the next sunrise.
Greenwood's paintings are sumptuous and richly colourful, providing ample opportunity for a reader to explore the visuals along with the words. The words, however, are important, including a smattering of Gumbaynggirr terms throughout the narrative, plus a full translation in the end matter. Readers can appreciate this as a gentle bedtime story, or as a guided teaching tool.
There will be a special resonance, of course, for children who identify as Aboriginal or Torres Strait Islander. But the idea of thanking and trusting the moon is a wonderful way to ward off fear of the dark or sleep resistance for children from any cultural background.