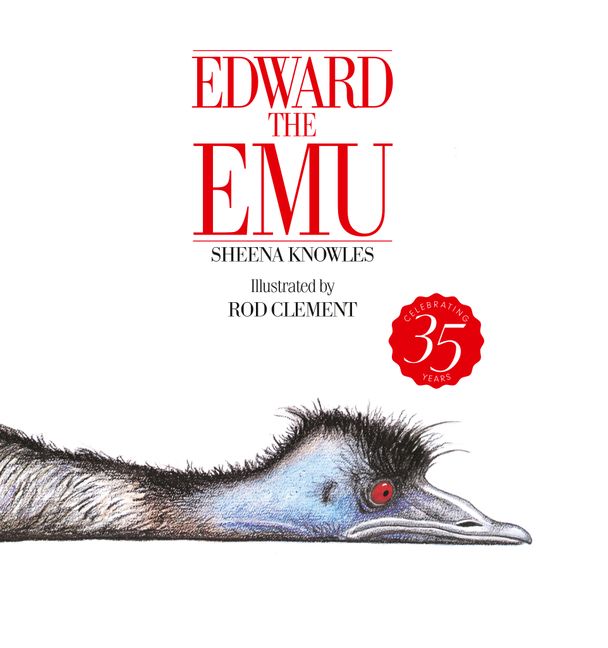 Edward the Emu
By Sheena Knowles and Rod Clement
Reviewed by Mia Macrossan
Edward the Emu is celebrating its 35th anniversary. It has lost none of its charm or relevance and continues to be both hilarious and moving.  This successful team also created the sequel Edwina the Emu. Rod is the author and illustrator of several much loved books including Grandad's Teeth and our personal family favourite Feathers for Phoebe.
Edward the emu is sick of the zoo, a feeling that is captured perfectly on the cover where Edward is lying flat on the ground looking glum and dejected. That night he jumps from his pen and joins the seals in their pool, having fun being one until he hears someone say that lions are the best thing in the zoo. That night he jumps from the pool and joins the lions. But he never settles, jumping from animal to animal every time he hears a person say 'such and such is the best thing. But then he hears someone say 'the emu is the best thing in the zoo' and he heads back to his pen to find a big surprise awaiting him.
Much of the humour in this story is captured in the illustrations which are detailed and expressive. Edward is always full of enthusiasm at the start of his next incarnation only to be deflated when he hears about the next best animal.  The face of the unimpressed seal as Edward jumps away to be a lion is priceless. Clement cleverly uses uncluttered white space throughout to keep the focus on the carefully drawn and naturalistic animals.
There's quite a bit to unpack in this understated story which gallops along in bouncing rhyming text. Themes include the importance of being yourself, being satisfied with who you are, not following the next 'best thing', enjoying new experiences and more.
There are many readings of the story on YouTube, my favourite is Symphony Storytime where the bassoon provides the musical accompaniment to the tale.
A joyful book that fully deserves its classic status. Recommended for every school library and home collection.