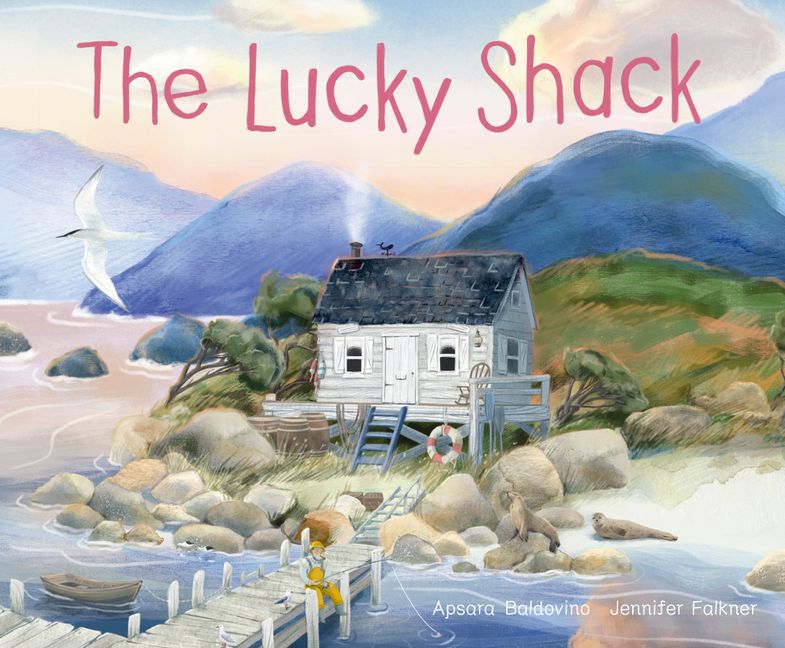 The Lucky Shack
By Apsara Baldovino and Jennifer Falkner
Reviewed by Mia Macrossan
This story of time passing for a little shack by the sea is a picture book debut for both creators. It is told from the shack's point of view which is a lesson in personification for young readers.
At first a fisherman comes and uses it on a weekly basis. He looks after it and together they are both comfortable and happy. Then a storm comes damaging the shack which becomes neglected and sad. After a period of loneliness a woman arrives and lovingly restores the shack. With the arrival of her children the cycle is complete and the shack is happy and useful once more.
The illustrations created in water colour and Adobe photoshop are deliciously delicate, creating character and atmosphere with soft colours and sweeping lines. The house has a 'face', with the windows looking like eyes and the door with a handle that looks like a mouth. Inside it is all very small and cosy while outside are the graded green hills and the big wide blue ocean. One double spread invites the reader to examine all the different colours of the land and the sea.
A teacher or parent will find much to talk about during the reading of this book including holiday homes, renovating, what makes a house a home, the feeling of being at home, what is luck, living in an isolated house surrounded by nature, as well as understanding the effectiveness of giving human qualities to inanimate objects.