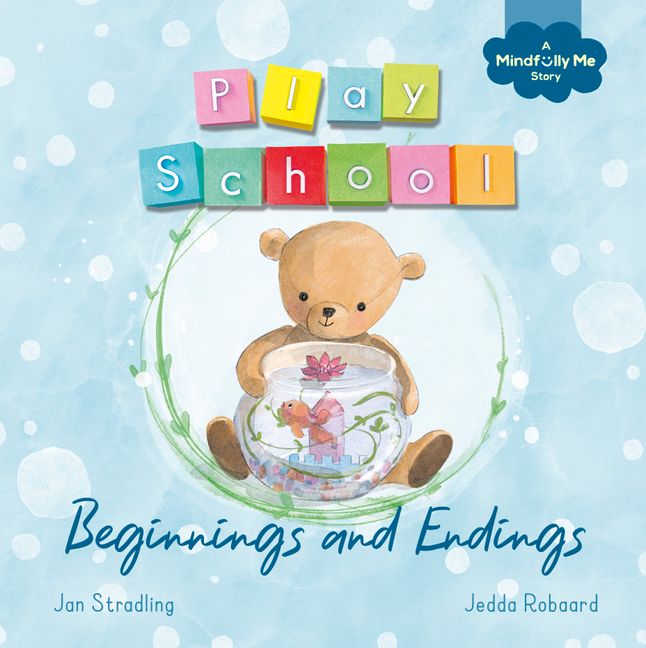 Beginnings and Endings
a Play School Mindfully Me book about death and life
By Jan Stradling &  Jedda Robaard 
Reviewed by Helen Gearing
Beginnings and Endings is the second instalment in the Play School Mindfully Me series, a collection designed to '[help] children and their parents and carers tackle life's challenges together – big or small'.
When Little Ted's beloved goldfish dies, his friends visit and comfort him. They offer hugs and companionship, share their favourite memories of Swish, and bring a scrapbook for Little Ted to fill with photos of his pet. And when Little Ted notices a new flower blooming in Swish's aquarium, he realises that life is constantly filled with new beginnings – even when you are grieving someone who is now gone.
For readers who are familiar with the Play School companion episode (also titled Beginnings and Endings) which aired in 2022, Jan Stradling does a wonderful job extending the discussion of how it can feel when someone you love dies. Little Ted tells his friends 'my heart feels sort of heavy today' and later describes their kindness as a 'warm, happy feeling wash[ing] over him.'
Jedda Robaard uses pastel illustrations to create a comforting, nostalgic atmosphere as she transplants Little Ted and other iconic Play School characters from the screen to the page. They are still recognisable, but perfectly reimagined to flourish in their picture book setting.
This gentle introduction to the concept of losing a loved one will be enjoyed by children three years and older who love Play School and want to learn how to be a good friend to someone who is grieving.