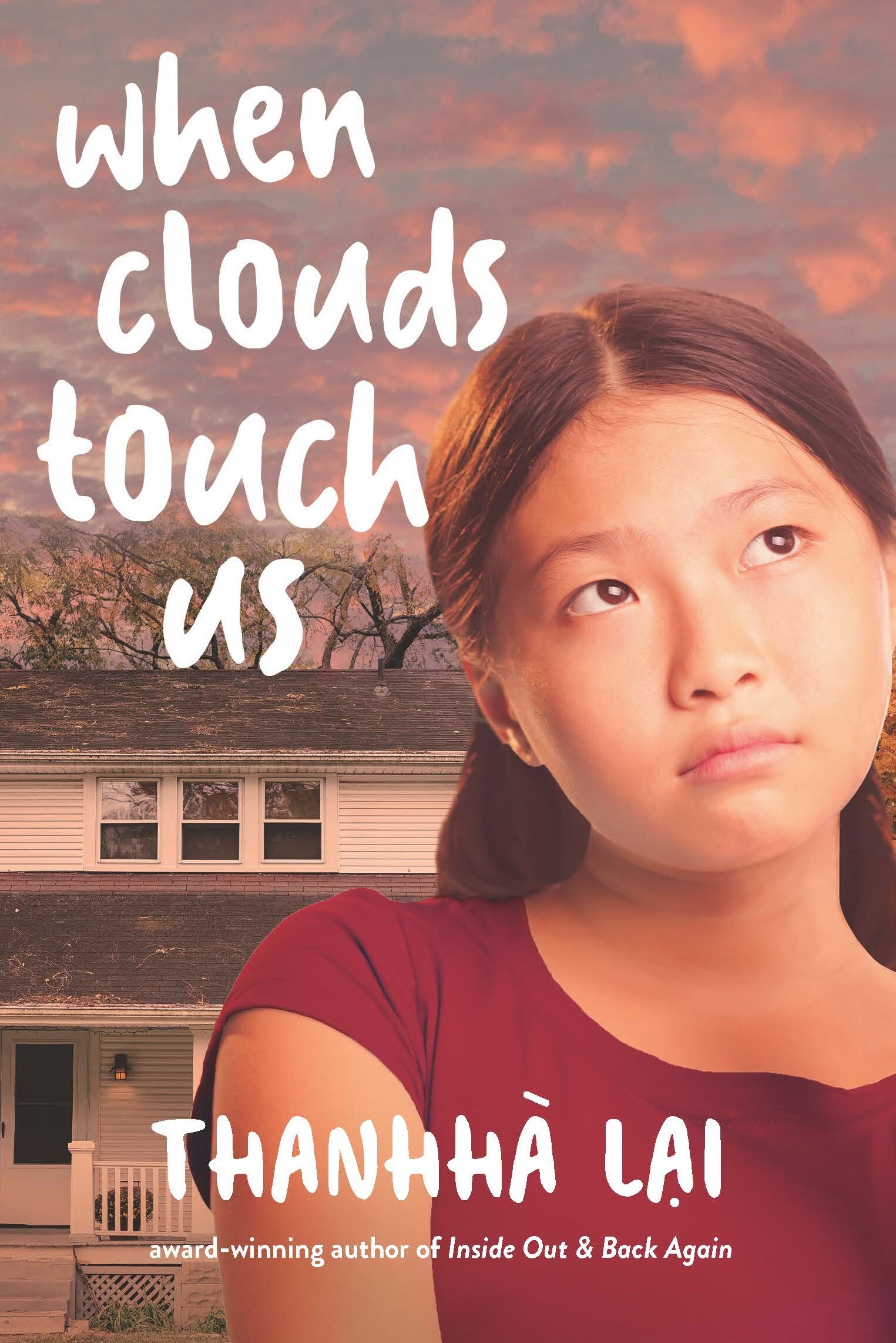 When Clouds Touch Us
By Thanhha Lai
Thanhhà Lai's first novel, Inside Out and Back Again, won the National Book Award and a Newbery Honor. It was a verse novel that explored ten-year-old Hà's move from Saigon to Alabama in the context of the Vietnam War.
When Clouds Touch Us revisits Hà two years later. She has made a friend, Pam, and her family still grieve their missing-in-action father. Her mother struggles to pay the bills on her low salary and hears of job opportunities in Tê-sát. Hà, settled in her Alabama life, only hears:
T-e-x-a-s,
demanding double hisses
from a two-tongued snake. (10)
The family decides in a vote to move for the new opportunities.
The verse novel structure is a perfect choice for conveying Hà's liminal experience living in between worlds. The young reader is launched into this from the first page, where it is explained that the "day-of-birth" for Vietnamese children is always at Tét, or Vietnamese Lunar New Year. Another example is the way Hà's brothers tease her by hearing Elton John crooning, "I hope you don't mind", as "Hà dô thì to má", or "Hà's chunky so huge cheeks." (141-2)
The contrasts of Hà's mother's struggles feeding her children while providing them with a sound moral compass and the school nurse and counselor's perception of Hà's "neglect" (93) are powerful. Indeed, the irony of the word is made clear in the poem, "Numb":
The nurse wants to call:
Mother . . . working,
Father . . .  gone,
Brother Quang . . . college,
Vu Lee . . .  can't reach,
Brother Khôi . . .  takes the bus.
The nurse and a counselor
discuss my "neglect,"
my "it's a shame,"
my "poor thing."
They leave me
lying numb on a bench
for two hours, fourteen minutes
waiting for my bus. (92-3)
At the end of the book, the author discusses why she chose prose poems to write the novel. She says it is "to convey what it's like to think in Vietnamese, a naturally poetic language . . . Notice how her language has become wordier as she acquires English. To me, English is so wordy."
This is a book to linger over and sink into. Images emerge and recur as Hà and her mother become closer and Hà begins to see her mother's journey as one of relinquishing "ripe papayas,/for coral-colored melons," (243) relinquishing her children "to a world/unknown to me." (242)
Highly recommended for mature, sensitive upper primary and secondary readers. It would be especially useful as a class text for exploring the Vietnam war, refugees and the Asian diaspora experience in the Australian curriculum cross-curricular priority area of Asia.
University of Queensland Press 2023
Zewlan's debut picture book Nothing Alike, a lighthearted look at the serious topic of race, perception and stereotyping, and the phenomenon of #sorrywrongasian will be published in August 2023.