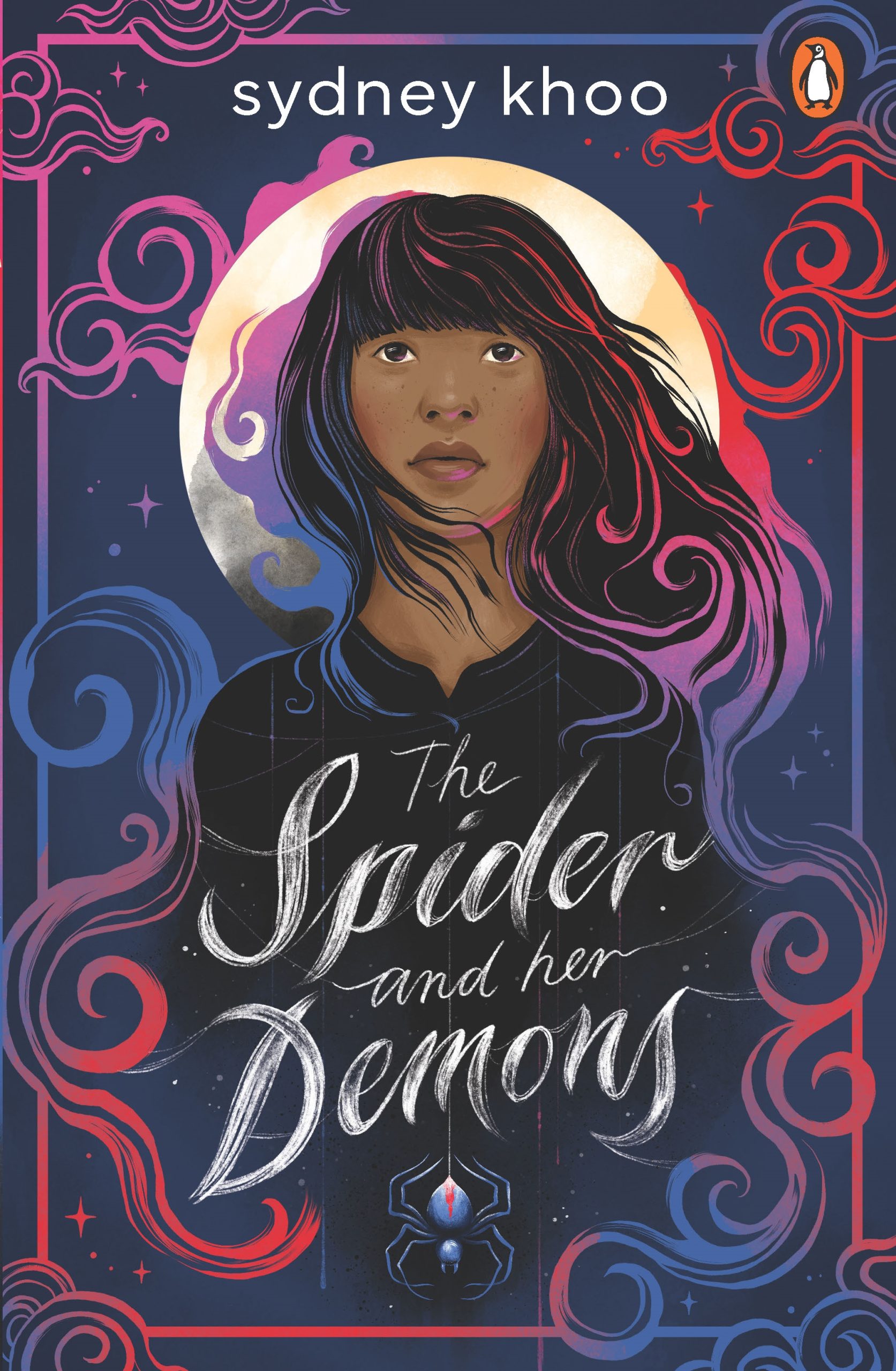 The Spider and her Demons
By sydney khoo
Reviewed by Mia Macrossan
sydney khoo is a nonbinary and aromantic asexual writer, born to Malaysian Chinese parents. They are the recipient of Penguin Random House Australia's Write It fellowship which aspires to find, nurture and develop unpublished  writers across all genres with a focus on underrepresented sections of our community.
khoo has written an engrossing urban/dark fantasy with a fascinating main character in Zhi. Zhi is part normal teenager and part spider demon. She hides her spider demon form ( extra legs tucked in, extra eyes on her forehead hidden by a taped down fringe, fangs retracted) you get the idea. So as well as the usual teenage preoccupations there is the overriding worry about inadvertently revealing who and what she truly is.
She works for her aunt in her not very successful dumpling shop when not at school. One evening while making a delivery to Dior, the most popular girl in school, she is attacked.  In self defence she drops her form, i.e. turns into her demon aspect and kills and eats her attacker in full view of Dior. Surprisingly Dior is unfazed by this but then as the girls gradually become friends it is revealed that Dior is a witch with her own special powers and problems.
This book comes with a content warning about assault, violence, murder, blood/gore, body horror and death. There are descriptions of body dysphoria, and reference to childhood trauma, psychosis and suicidal ideation. All these aspects are present but really, this story is not as grim as this warning may imply. Maybe I have a warped sense of humour but a lot of this is funny, except for the murdering and eating part. Zhi and Dior are two outsiders who find each other and form a partnership; its a 'buddy' story with a dose of horror. Both girls still have to deal with the normal human activities of negotiating friendships and family obligations as well as school and study.
 khoo is serious about their aims for this story: 'I wrote The Spider and Her Demons to tackle my own demons — particularly, being a second-generation immigrant, raised in a household with traditional Chinese values, surrounded by Western culture. Growing up, I felt this overwhelming pressure to make the adults in my life proud, even if that meant hiding the parts of myself that make up who I am. There is so much of me in Zhi. Her discomfort with her physical body. The persistent presumption she's cisgender. The hypervigilance and inability to feel safe. The ongoing struggle to find a sense of belonging in her relationships and with the world. I wanted Zhi to make peace with her demons, so I could make peace with mine.' 
The teaching notes are a great help in unpacking the novel's many themes which include but are not limited to intergenerational trauma, migration and migrant families, LGBTQI+ characters and relationships, nature vs nurture and prejudice.
On a surface level this is an entertaining read but there is plenty here to think about if you want to delve deeper. The publishers do advise an age range of 14 and over.