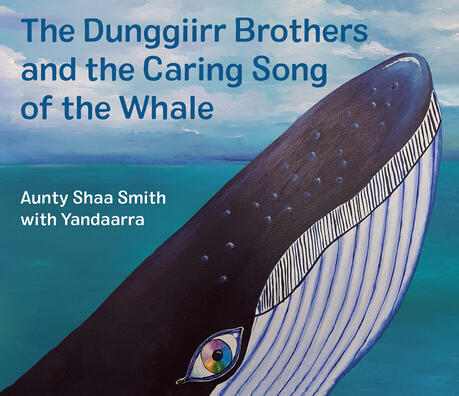 The Dunggiirr Brothers and the Caring Song of the Whale
By Aunty Shaa Smith with Yandaarra
Reviewed by Mia Macrossan
This children's picture book with strong messages about caring for country and each other is the result of a collaboration between the Yandaarra Collective and the University of Newcastle. Yandaarra, a Gumbaynggirr word meaning shifting camp together, is a research collective led by Aunty Shaa Smith, Uncle Bud Marshall and Neeyan Smith, Aunty Shaa's daughter.
Uncle Harry Buchanan held the story for Ngambaa Country and passed the story in the book onto Aunty Shaa who is now the story holder for this story and others belonging to Ngambaa and Gumbaynggirr Countries.
Aunty Shaa says this is the story of the Koala Brothers, the Dunggiirr Brothers. This is the story of our Country.

We live the story of being saved by Dunggiirr and we do a ceremony to keep it alive. It is this story and memory we share with you in this book.
In the book, key themes of Aboriginal sovereignty, Country, belonging, history, family and community are told through a unique blend of story, song, Gumbaynggirr language and cultural information.
Recommended for primary school students, The Dunggiirr Brothers and the Caring Song of the Whale, connects children to the landscape of the mid-north NSW coast, as well as to the unique stories of the Gumbaynggirr people.
The book won the 2022 NSW Premier's Young People's History prize. Here are the judges' comments: The Dunggiirr Brothers and the Caring Song of the Whale combines story and memory that 'belongs to all times', not just the past.  The book features a mix of artwork ranging from aerial photos of country, photos of people on country, hand-coloured photos and drawings and acknowledges the many people who participated in the Yandaarra ('shifting camp together') project and ceremony for the book.   It takes the young reader on a journey welcoming them to Ngambaa and Gumbaynggirr Countries, on the mid-north coast and shows how  Aunty Shaa and the many participants in this story, live the story and the law that is in the story.  They invite the young reader to do the same.