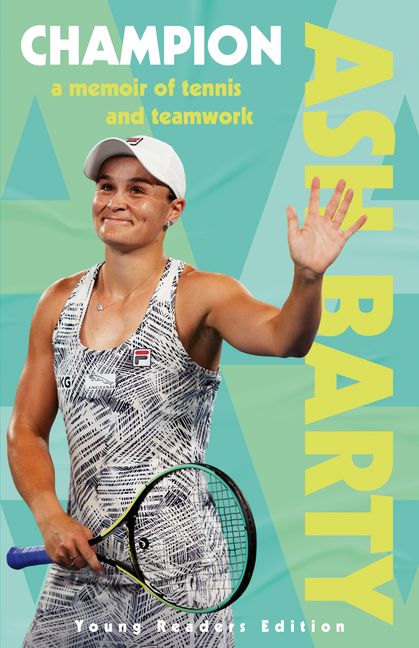 Ash Barty Champion
By Ash Barty
Reviewed by Mia Macrossan
This is the Younger Reader edition of Ash Barty's official autobiography. She says It's a tennis story. It's a family story. It's a teamwork story. It's the story of how I got to where and who I am today. My story is about the power and joy of doing that thing you love and seeing where it can take you. It reflects on my whole tennis journey – from the first time I picked up a racquet as a young girl in Queensland, to the night I packed up my tennis bag at Melbourne Park after winning the 2022 Australian Open. It explains how I worked through self-doubt, homesickness and a break from the sport to realise my tennis dreams, winning Wimbledon and ranking number 1 in the world.
 Ash cites the famous speech 'The Man in the Arena' given by Theodore Roosevelt in Paris in 1910 (p 133) as a source of inspiration. She likes it because the hero has moments of failure, he stumbles, despite shortcomings he strives.
Ash Barty  has become a role model for young girls with dreams of achieving in sport and her unassuming demeanour her warmth and friendliness combined with her stunning achievements have endeared her to many, not just in Australia but all over the world.
This very readable and engaging account is inspiring for anyone who enjoys reading about struggle, achievement and success. You don't have to be a tennis player to enjoy this even though there is a lot of information about tournaments, training and tennis.
Written in a very accessible style with eight pages of colour photos, including the now famous one of Ash holding her first trophy, and one of her wedding,  this is an enjoyable read,  it might even inspire you to take up tennis or any other sport.
Ash Barty has also written the Little Ash series with Jasmine McGaughey illustrated by Jade Goodwin, aimed at emerging readers, reviewed in StoryLinks. .