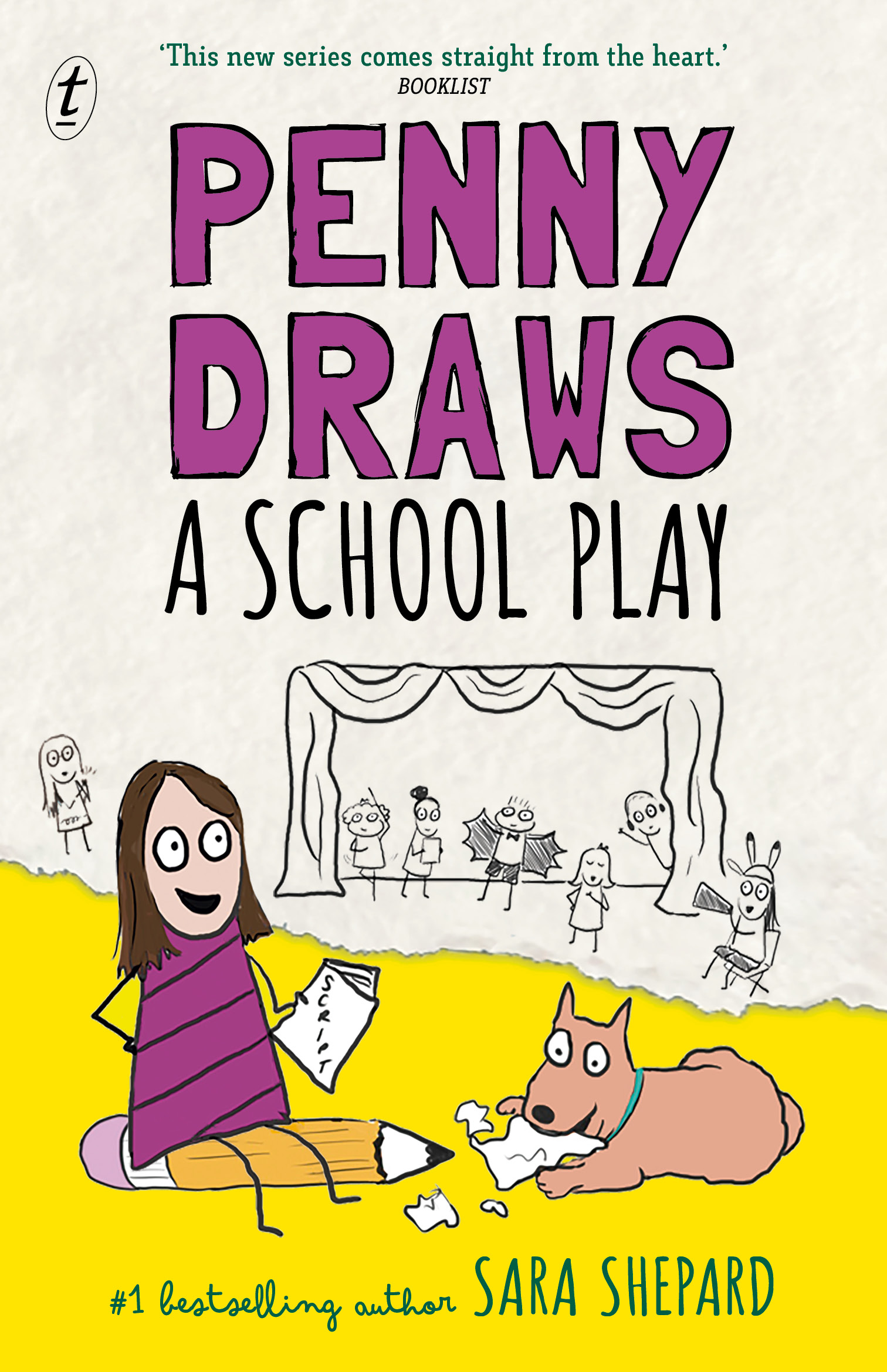 Penny Draws a School Play
By Sara Shepard
Reviewed by Charlotte Barkla
Oh, how I wish Penny Draws a School Play was around when I was a kid.
Penny Lowry is in 5th grade and has a lot of changes in her life. Baby twin siblings on the way, moving to a new house, a replacement teacher and… a school play! Just when she thought all her worries were under control!
This is the second book in the Penny Draws series by Sara Shepard, most well known for her New York Times best-selling YA series Pretty Little Liars. Having scrolled past the Netflix series many times – not being a fan of thrillers – I wasn't sure what to expect with the author's first children's series. Readers, it was just delightful.
The book is written diary style to Cosmo, Penny's dog. Black and white line illustrations interposed throughout carry the dialogue and add lots of great humour to the story, making it an accessible read for fans of graphic novels and comics.
The book features a loveable set of quirky characters, including a younger brother nicknamed Juice Box, an ambitious, treehouse-building dad and Spelling Bee frenemies. Miss Kettle, the eccentric replacement teacher was a real highlight. Not only does she carry around a hand puppet named Steve, she also insists on all students participating in the school play. (Yes, even you Penny.)
I love the way Shepard deftly weaves in helpful strategies for coping with anxious feelings into the book, like drawing or writing about your worries, or speaking to kind friends and trusted adults. The 'Feelings Teacher' that Penny talks to at school offers sage advice: 'Picture these changes as something scary. Like jumping off a high diving board. You could run from that diving board, or you could jump off… and realise it's really fun.' To which Penny replies, 'I hate diving boards.'
I read the whole book with a smile on my face. Equal parts endearing, funny and relatable, I enjoyed this book so much, I might have to watch Pretty Little Liars now.
Charlotte Barkla is the author of All Bodies Are Good Bodies, From My Head to my Toes, I Say What Goes, and the Edie's Experiments series.