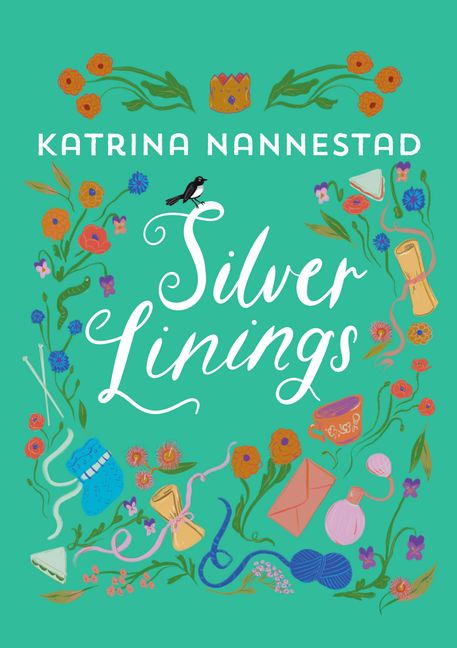 Silver Linings
By Katrina Nannestad
Reviewed by Helen Gearing
Katrina Nannestad, beloved best-selling author of twenty-three novels for children, brings early 1950s regional New South Wales (with its hopes for a brighter postwar future embodied in Queen Elizabeth's upcoming coronation) to life in her latest book, Silver Linings, which is exquisitely produced in an embossed hardback edition by HarperCollins.
While Nannestad's other recent historical novels, including Rabbit, Soldier, Angel, Thief and Waiting for the Storks (which won the 2023 Book Links Award for historical fiction), have been set in Europe, the sensitivity, nuance, and hope which marks her handling of difficult topics, a characteristic of these stories, is also a feature of this story, which lives and breaths its Australian setting.
Five-year-old Nettie Sweeney's life on her family's dairy farm (with her three older sisters, father, and aunt) is vivid and full of imagination as she cares for the farm's baby animals with all the tenderness she longs to experience from a mother herself. And when Nettie's father remarries, Nettie's dreams of a mother with 'sparkling eyes' and plentiful cuddles are fulfilled – and the whole family blossoms.
However, Nettie's newfound joy in her home life unbalances the delicate relationship with her best friend and neighbour Robyn, whose own home life is marred by poverty and her father's mental illness.
When tragedy strikes the Sweeney household, Nettie's heartbreak and jealousy lead her down a dangerous line of thinking which can only be mitigated by the kindness of a few rare individuals who are brave enough to enter, with Nettie, into her excruciating grief.
Silver Linings is a multi-layered story of tender and complicated family dynamics which expertly invites the reader to recognise clues which Nettie's age prevents her from decoding in her first-person narration. Nannestad's meticulous research signals the dialogue as authentic and her descriptions are vivid and lyrical. Each character is utterly believable and engaging, marking Silver Linings as a novel deserving comparison with great classics of children's literature which also explore family and loss, including Little Women and Seven Little Australians. It will be enjoyed by readers eight years and older who aren't afraid to welcome Nettie and her family – and their tight-knit, albeit imperfect community – into their hearts.