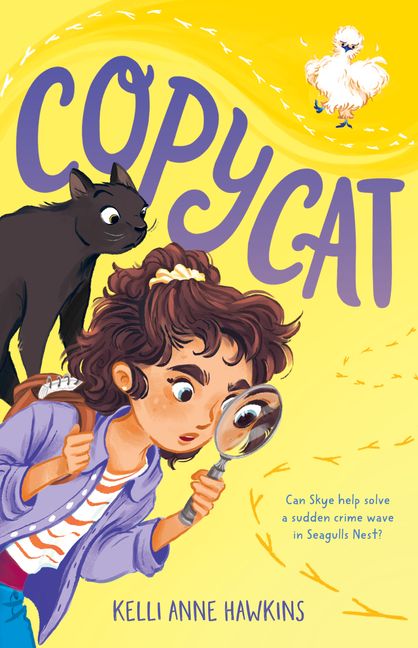 Copycat
By Kelli Anne Hawkins
Reviewed by Sophia Evans
Copycat is the third children's book by Australian author Kelli Anne Hawkins. Her previous books include The School for Talking Pets (2021) and Birdbrain (2022).
Copycat begins with Chapter One titled – THE END which I found hilarious right off the bat. THE END is actually the end chapter from our main character's mystery novel. 11-year-old Skye Starling's novel within this story is based on the people in her life. As she finishes writing her book in chapter one, she decides, on a whim, to shelve it in the library that her grandmother runs.
She comes back the next day to find that her book has been stolen! The list of suspects is short. In fact, it's only one person. An easy solve for a great detective like Skye. She confronts the thief only to find out that her book was also stolen from him!
A whirlwind chase ensues as Skye and her new sidekick, the accused thief Bailey, search for the stolen book. Bailey begins to share his background with Skye who also opens up about her parent's absence.
Just as they think they're closing in on the actual thief, the crimes from Skye's book start happening in real life. The Seagulls Nestians, as the townsfolk call themselves, also start acting suspicious. Skye and Bailey become spies, gathering clues to find who took the book and who is acting out all the crimes from it. The old twins take turns wearing a large coat even though the weather is hot, the mayor starts accusing the police of not doing enough to catch criminals, the café owner does shady business in a back alley, the chickens aren't laying eggs, and so much more. Winston, the Mayor's chicken, seems like the only one unaffected and continues to peck everyone mercilessly.
There is a heart-warming and mysterious sub-plot regarding Skye's missing parents who vanished with only a quick note. They should be working on a cruise ship; they should be sending postcards and letters at every port, but Skye hasn't seen or heard from them in over two and a half years.
Kelli Anne Hawkins includes a smattering of lists, receipts, advertisements, radio interviews, newspaper articles and news reports in her story, which all add little clues to the big mystery. Each detail and observation seems unrelated but pieces together cleverly. It all comes down to the wire and it's in the final chapters where we discover if Skye can solve the all the crimes, or if the copycat will get away with it.
Copycat is a humorously intriguing read that grips the reader from the first chapter. We are swept along, trying to solve the clues with Skye, with each detail seeming more and more ridiculous. This story will appeal to those who enjoy mysteries, heart-felt journeys of self-discovery, and egg sandwiches.