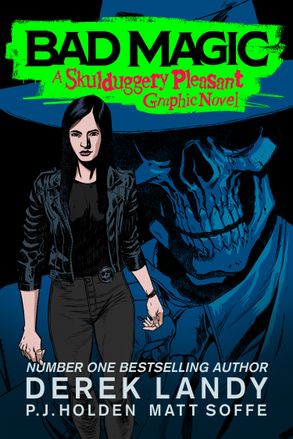 Bad Magic: A Skulduggery Pleasant Graphic Novel
By Derek Landy, P.J. Holden, and Matt Soffe
Reviewed by Sarah Custance
Irish author Derek Landy wrote the bestselling Skulduggery Pleasant YA novels that have been translated into thirty-nine languages. Together with artist P.J.Holden and colourist Matt Soffe, Landy has created Bad Magic a graphic novel spin off series to the Skulduggery Pleasant books. Not for the faint of heart, this spinoff lands quite heavily in the horror genre with some truly unnerving monsters. Bad Magic is a perfect example of how to properly execute a mixture of horror and comedy through its writing without ever feeling unbalanced or out of place.
Experiencing murder, magic, mayhem, monsters, and mystery? Call Skulduggery Pleasant and his partner Valkyrie, the paranormal detectives who will get answers through polite inquiry and if that fails, (inevitably), will unleash their own magical abilities.
The story is set in Termoncara, a small town which has an alarmingly high number of murders, especially of children. When Skulduggery and Valkyrie arrive, they are immediately faced with hostile townsfolk, monsters on the loose, and an invisible entity that seems to be controlling the town through hatred and cruelty.
Can the duo get to the bottom of this town's dark past before a monster who is quickly gaining strength (and body count) has spilled enough blood to break free and wreak havoc on the world?
As his name suggests, Skulduggery Pleasant is a polite, elegant, endearing, and altogether pleasant skeleton monster whose relationship and banter with Valkyrie are fascinatingly witty and filled with an unexpected humour and warmth. These likable oddball characters, original plot, horrifying premise, and playful dialogue keep readers thoroughly engaged throughout.
Bad Magic can be read as a standalone book, though after reading this graphic novel spinoff, there will undoubtedly be a whole new audience wanting to read the original series. Overall, Bad Magic is a weirdly charming horror YA graphic novel that will delight long-term Skulduggery Pleasant fans as well as new readers.