Storm Whale
by Sarah Brennan illustrated by Jane Tanner
Reviewed by Inda Ahmad Zabri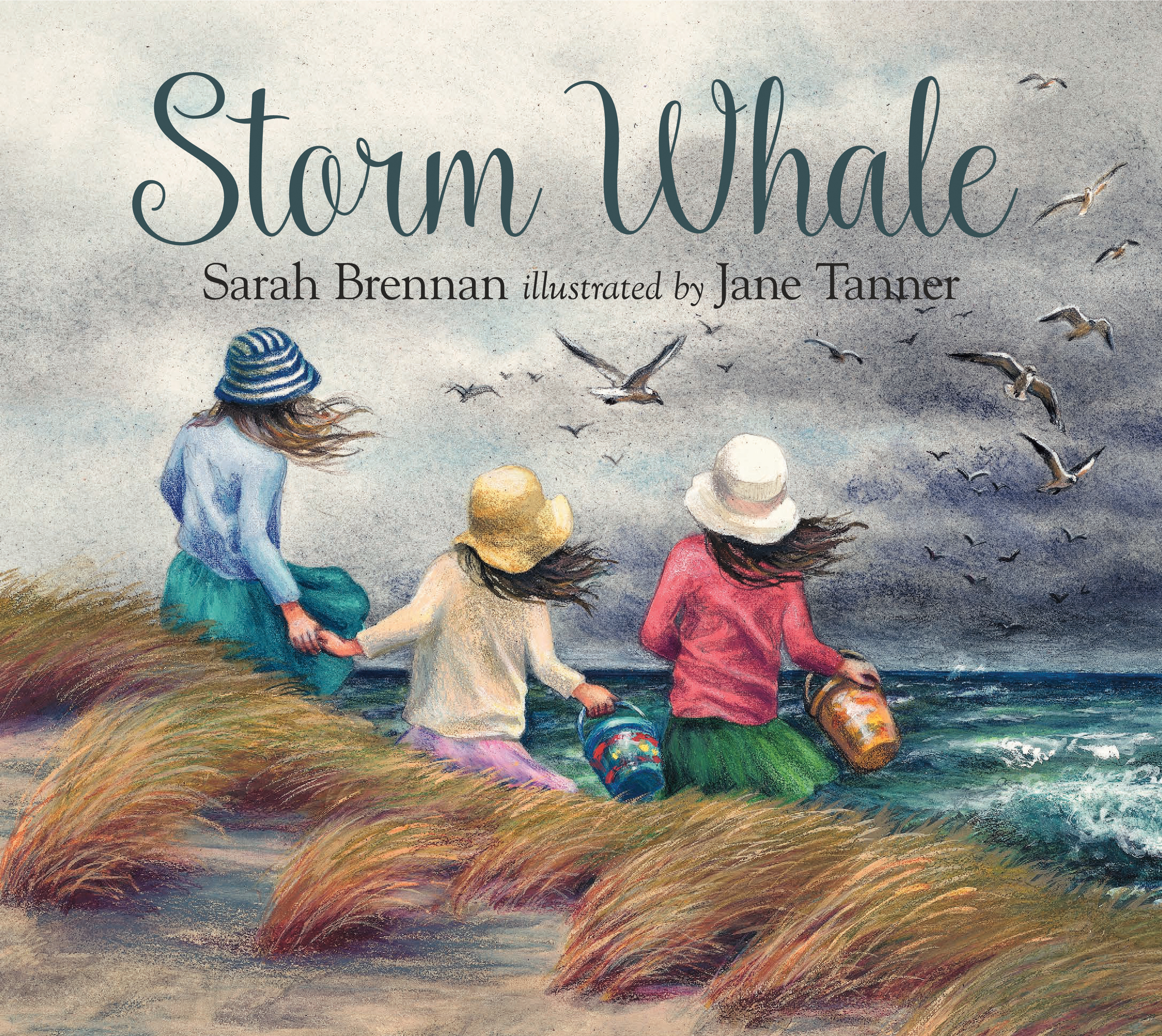 This is a captivating story of three brave sisters working together to rescue a stranded whale.  Sarah Brennan grew up in Tasmania and often saw whales washed up at her local beach as a child.  She draws us into the setting of a blustery day with strong imagery –
And the seabirds wheeled and the salt sea spray
Made dots and dashes, black and grey. 
Just as striking, Jane Tanner's illustrations show the force of the wind as it bends the grass on the hillock and ravages the sisters' hair. In a grim turn of events, they spot a whale stranded on the beach.  The reader is pulled into the helpless eye of the great beast, Waiting in silence to drift … or die. Without hesitating the girls throw themselves into the rescue, splashing buckets of water on its great bulk. Rarely have I come across such a gripping low point  so flawlessly executed in a picture book.  The verse did not try to disguise the desperation and anguish that the sisters endured during their efforts.  The wind had brought on the rain, which turned into a storm, leaving the girls up to their chest in increasingly choppy waters.
The illustrations are magnificent.  In the depths of their despair, we see grief and torment on the face of angels.  When the girls are finally forced to walk away and leave the whale roiling in the surf, we see its sorrowful eye peeking through the dark sleet. There was nothing left to do but pray for the best, and as happens in stories, there is calm after the storm.  The girls awaken the next morning as it "rose like a golden peach, glowing over the wide white beach."  The radiance on their faces reassure us that a happy ending ensues.
Storm Whale is a triumph for its wonderful verse, lifelike illustrations and the message that it brings.  At the core of the plot is the whale, noble and colossal, yet vulnerable at times, needing the help and protection of humans. But the heart of the matter is the love of a child, selfless and complete, giving their all to creatures in need.
Storm Whale is a CBCA 2018 Notable book
Allen & Unwin 2017 hardback $24.99 ISBN 9781760293642