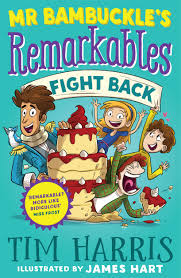 Mr Bambuckle's Remarkables Fight Back
by Tim Harris, illustrated by James Hart
reviewed by Rebecca Sheraton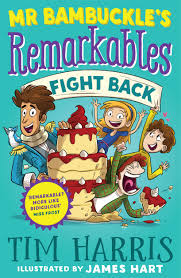 Mr Bambuckle's Remarkables Fight Back is the second book in this series following on from the popular Mr Bambuckle's Remarkables published last year. Book Three, Mr Bambuckle's Remarkables Go Wild is due out in September 2018.
Mr Bambuckle's class is lost without their beloved teacher. They are shocked when they meet his replacement, the icy Miss Frost whose favourite phrase is, Discipline is the new order. The class of fifteen students struggle to adjust to Miss Frost's high expectations and are scared to make a wrong move. Mr Sternblast, the principal of Blue Valley School, is delighted to see the back of the free spirited Mr Bambuckle, but the students soon notice that their former teacher's presence is still felt. It all starts when Sammy Bamford and Carrot Grigson are passing notes in class and when caught, their notes mysteriously transform into academic insights about the African sparkmaker beetle and delightful comments on the principal and Miss Frost.
The book focuses on four students, told from their point of view and each are charged with their own mission or special skill from Mr Bambuckle. The magic and mystery of Mr Bambuckle continue throughout this novel as his class takes almost any risk to get their teacher back. This novel is a rambunctious and hilarious read. My Year 4 students loved having this book read aloud to them and they rolled around laughing at its silliness and unexpected twists and turns. They also enjoyed the entertaining illustrations by James Hart.
The book features a helpful profile on all 15 students at the start of the novel to introduce the reader to the cast of characters. It also has different text types throughout the novel to break up the storyline,  including notes, conversations and more.
Written in a similar humorous style to the Treehouse series or David Walliams books, these novels are a fun read for beginning novel readers or reluctant readers.
Random House Australia 2018 paperback 240 pages 14.99 ISBN 9780143785873