Bravelands#1 Broken Pride
written by Erin Hunter
reviewed by Lucy McGinley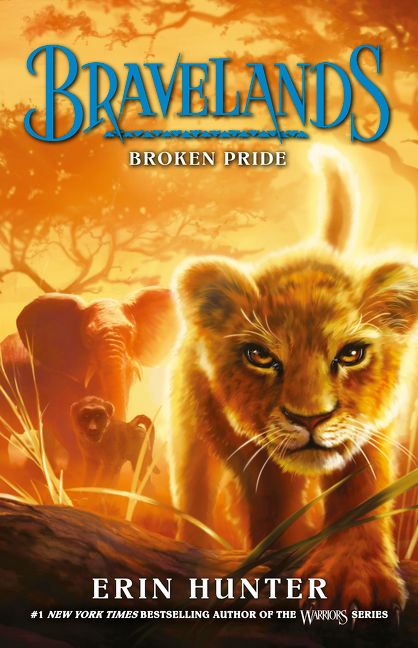 Prepare yourself for an emotional roller coaster as you are immersed into the world of wild animals. Bravelands: Broken Pride, will have you crouching in the savannah grasses like a lion cub, pounding your chest like a baboon and proudly striding like an elephant as you live their daily struggle for survival.
The fight to survive can be quite overwhelming and your sensitive soul may try to close the book at times but you cannot leave your herd, pride or troop, you are a part of Bravelands now. This constant energy and passion is understandable when you learn that #1 New York Times bestselling author Erin Hunter is actually six writers. These amazing women are united by their love for animals and their ability to put themselves in their paws. Due to this cohesive teamwork they have been able to write the bestselling Warriors series which currently has six sub-series with six books each. I love it when I discover a prolific writer and my child is just drawn along through their 'library', hungrily devouring book after book.
The books are sensitively written from three animal's points of view – Fearless the lion cub, Thorn the baboon and Sky the elephant . Think Watership Down, Duncton Wood and Wings of Fire. In Bravelands: Broken Pride, we learn that for generations the animals, both Grasseaters and Preyhunters, have lived by the simple rule, 'Kill only to survive'.
'I feel the sadness of the wildebeest braying a sad call to a friend who would never answer again – prey of the pride'.
But something terrible has happened to change things. 'A bad death will linger with the fallen. We must test the flesh'.
Unlike the rest of the action-packed book the prologue did not grab my attention rather tweaked my curiosity. I think this sets the scene for advanced readers who are prepared to read further into a book to find out more or readers who already know the work of Erin Hunter. Some parts of the book can be like watching a David Attenborough wildlife documentary with the adrenalin rush of danger ramped up with emotional attachment to the wonderfully developed characters. Be wary if your child is a sensitive soul. I myself put the book down for a week in the early chapter after a confronting attack on the young lion cub's father.  This is a pivotal moment in the book and leaves our new friend, Fearless, feeling confused and alone within minutes of what should have been a happy time.
Fearless barely had time to draw a breath let alone be scared. 'I'm alone. Just given my name and I have to run away'.
The clumsy young cub soon finds some unlikely friends and begins to make his own way in life.
'This time I'm not going to run. This time I'll face death bravely.'
However Fearless just can't seem to keep away from trouble and gradually the paths of the three point of view animals are woven together. Can the unlikely trio, lion, baboon and elephant, unite to stop the rippling undercurrent of chaos threatening to destroy Bravelands? A story bound to appeal to young animal lovers.
HarperCollins 2018, 336 pages, paperback $12.99, ISBN 9781460756270