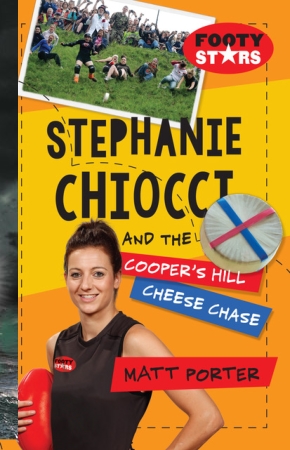 Stephanie Chiocci and the Cooper's Hill Cheese Chase
written by Matt Porter
reviewed by Rebecca Sheraton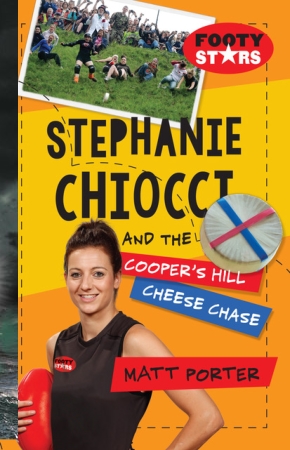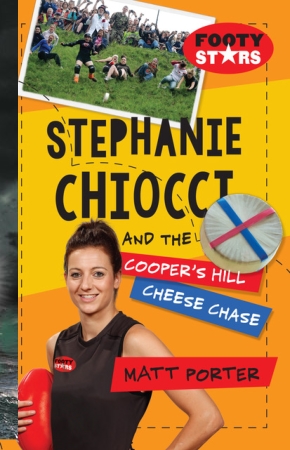 This is the first book in the Footy Stars series and features AFLW Stephanie Chiocci, who captains and plays for the Collingwood women's team. It is great to see a female sporting hero children can relate to as one of the main characters.
Stephanie jets off to England on her days off to help out a young English fan, Emily Adams who watches the AFLW online. Emily writes to Steph to ask for her help to save her granny's cheese making business and to compete in the Cooper's Hill Cheese-Rolling Race. Except Steph has to stop Neville O'Shea, the cheese maker driving Emily's granny out of business, from winning the race which he wins every year.
Steph crosses paths with Neville O'Shea as she trains on the hill the day before the race and he tries to psych her out. Steph must draw on her AFLW knowledge and skills to help her train and give her the tactics to apply during the race.
The book has several funny phone exchanges between Collingwood president, Eddie McGuire and Steph to make sure she doesn't injure herself in any crazy sporting competitions. The book also features a question and answer section with Stephanie Chiocci and footy tips on how to compete certain AFLW skills which feature in the book.
This early reader is great for sporting fans who are starting to read smaller chapter books and is similar to the Netball Gems series.
Ford Street Publishing 2018, 74 pages, paperback $12.95, ISBN 9781925272888