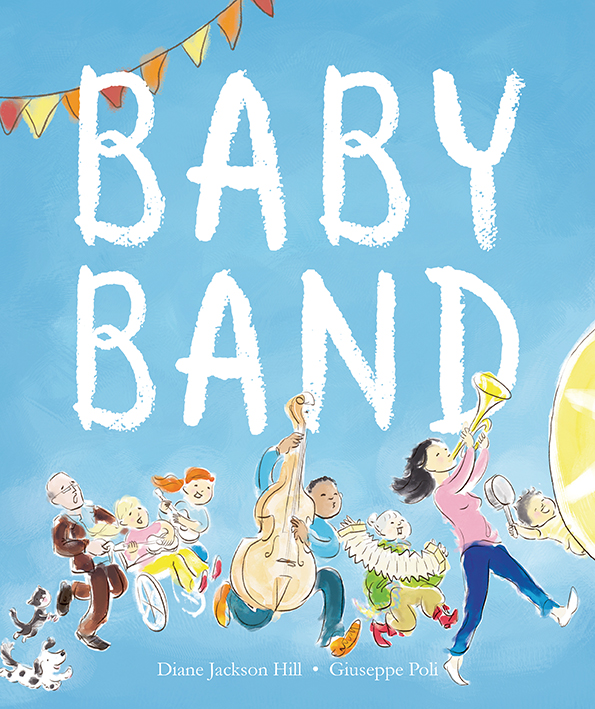 Baby Band
Written by Diane Jackson Hill Illustrated by Giuseppe Poli
Reviewed by Lucy McGinley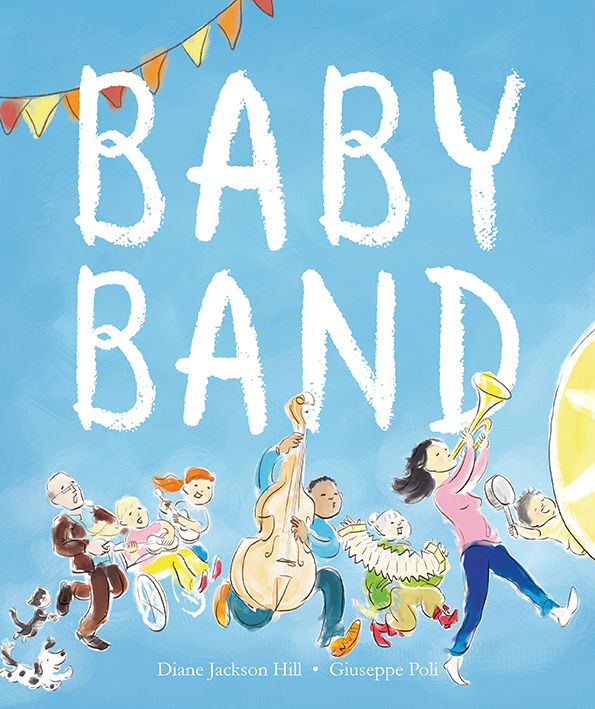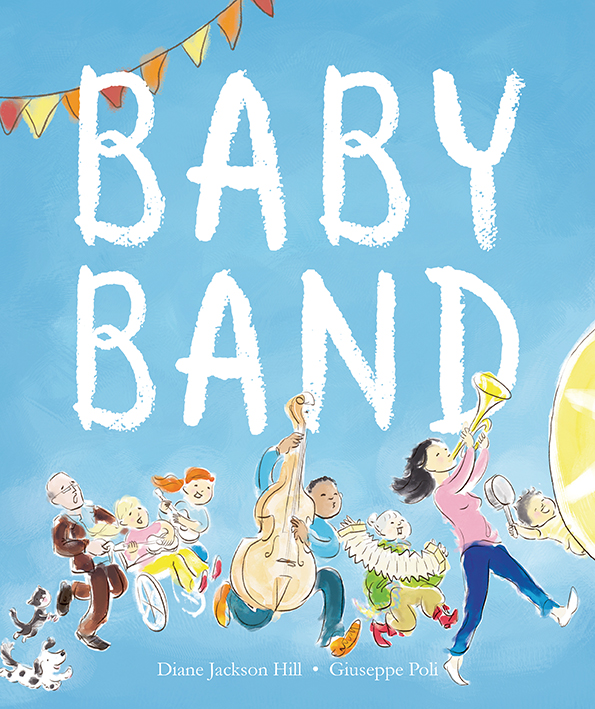 When I picked this up my first thought was that I'd read it before.  There have been a few books written about the noises babies make and how this disturbs others. However, when I opened the book I immediately saw the difference – Giuseppe Poli's illustrations are not only enchanting but they turn a simple story into a fascinating one.
We hear about a cold and quiet apartment block full of people who have lived there a long time. We see the people with their noses buried in books, not looking at each other, waiting quietly for the lift. However, we can see they are interesting people by their accompaniments, especially the quirky window cleaner with his long-handled brush tickling the suited gentleman's nose. Even when they are squished into the lift they don't talk to each other. We see their backs and hear that they do not know each other and do not say hello.
But then the baby arrives. The baby can be heard by everyone and we see snap shots of how this affects each person differently and the connection begins. I love the window cleaner already!
The mother is trying everything, but she is alone and struggling. When the baby discovers the pots and pans even his stoic neighbours can no longer ignore him and therefore each other. This is when the written story comes to life as each character adds their own contribution to the baby's noise, except for my wise window cleaner who thinks, 'It's good to leave a space'.
The words and pictures become one vibrant story, with sounds looping across the page as we are carried along towards the inevitable crescendo … but wait! Here is a white page with only words. Then an illustrated page with no words, cleverly leading us to the never realised but much anticipated disaster.
I can see Baby Band being very popular in a kindergarten as well as at home. There is a lot of scope for including movement and sound as the book stimulates the child's imagination on a multi-sensory level.  You could engage in discussion about the different characters, a single mother, elderly people, a teenager and a wheelchair user and ask questions, such as, why is it important to say hello to people? Not forgetting, the age-old question, 'What do you think will happen next?'.
A delightful book that many readers and listeners will enjoy.
New Frontier Publishing 2018 Age 3 – 6 years Hardback $24.99 ISBN 978-1-925059-77-9