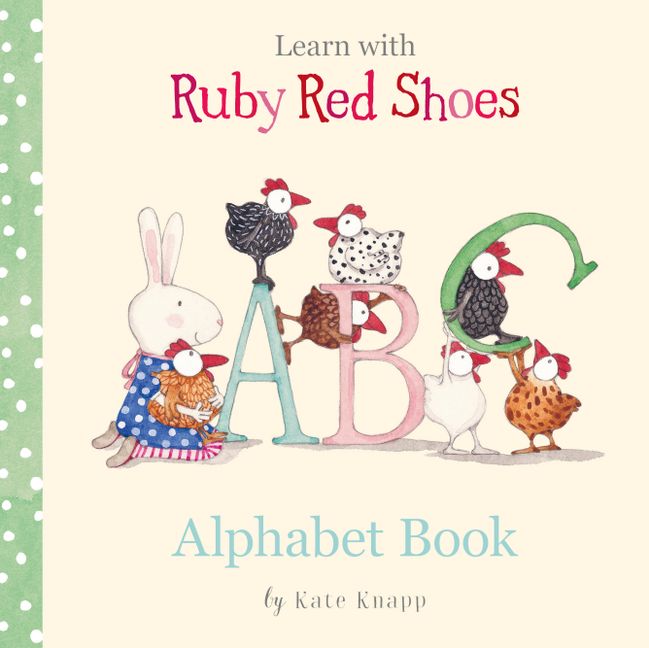 Learn with Ruby Red Shoes
Learn with Ruby Red Shoes: Counting Book
Learn with Ruby Red Shoes: Alphabet Book
written and illustrated by Kate Knapp
Reviewed by Mia Macrossan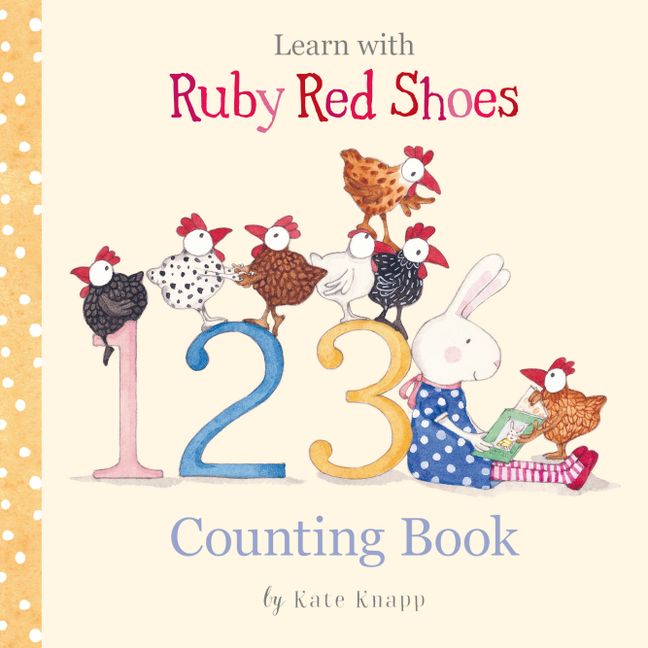 Ruby Red Shoes is the creation of Australian author and illustrator, Kate Knapp  who here has expanded her successful series with two more titles featuring the 'aware hare'.  Ruby  can do almost anything and here she is leaning (and teaching) how to count up to twelve and the letters of the alphabet. The small format hardback books are portable, hard wearing and crammed full of the delightful illustrations that have made Kate Knapp's work so deservedly popular.
In the counting book each number is given a double page spread. On the left is Ruby doing something interesting such as buttoning her coat (four buttons), picking ripe peaches (six), dozing under the washing line (nine items) and so on. On the right side is the number in a figure, written out and illustrated in a sequence. The reader therefore can count the items as they appear on the left illustration after practicing counting them on the right hand page. This is a standard formula for counting books but what makes this one so appealing is the delightful text and the attractive illustrations.
Two is for us . That's me and you.
One plus one is equal to two.
Two of anything is also a pair,
like the shiny red shoes that I love to wear.
The text is  four lines per page except for one aberration, the number eleven needed six lines. The rhyming text flows smoothly on the whole in language that is rich and rewarding with the occasional  juicy word for a young child – clockwise, chilly, crunchy, clucking to name a few.
The illustrations created in pencil, ink and watercolour are detailed but never cluttered, filled with chickens, Ruby and her friends. The colours are soft, punctuated regularly by the bright red of Ruby's shoes.
A companion volume is  Learn with Ruby Red Shoes: Alphabet Book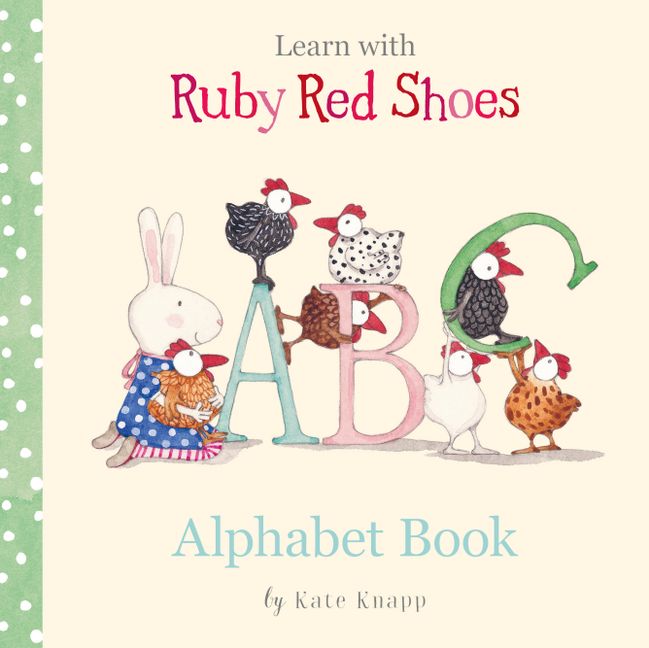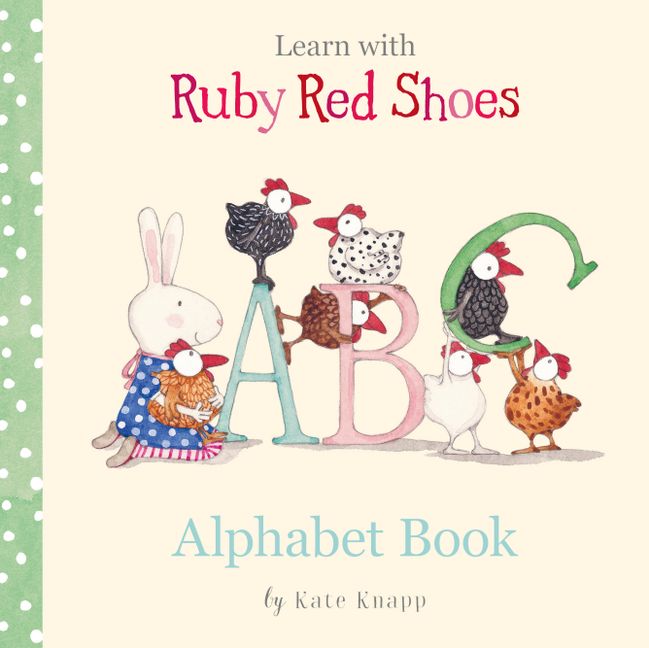 Here Ruby is telling us all about the letters of the alphabet in her own inimitable way. We see Ruby in her world -making Jam in the Kitchen, cycling to her grandma, eating with her family, and going to the Market and more. Again told in rhyming text which varies in length from page to page although most have four lines. The lines can also vary in length but all are easy to read aloud:
U is for umbrella
beneath it we hide
when the rain pours down
and we're somewhere outside.
Occasionally we get a  message about life such as to share toys, remember your manners and that vegetables are good for your body. The language here is a mixture of formal and casual, there is yummy, comfy, and my favourite, chooks (in a sign on a blackboard, Ruby is teaching the chickens that 'chooks love books'). The illustrations are full of delightful details that make each page a little treasure to explore. This is much more than an alphabet book but a glimpse into a world brimful of activity, of love and joy.
These useful attractive little books are sure to become a family favourites .
Angus & Robertson 2018 Hardback 32 pages $14.99 Age 3+ ISBN  9781460756911 Counting Book, ISBN 9781460756904 Alphabet Book