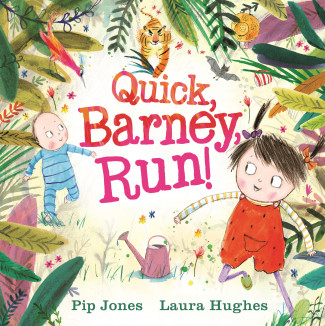 Quick, Barney, Run!
Written by Pip Jones 
Illustrated by Laura Hughes
Reviewed by Andrea Wilson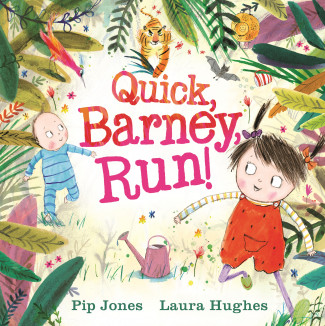 Can you remember being stuck inside on a rainy day as a child? With themes of cooperation and problem solving, Quick, Barney, Run! is a picture book told from a young girl's perspective as she and her younger brother try to pass a rainy afternoon. Packing their bags, they climb into a cardboard box and set off. During their adventure they climb a mountain, explore a cave and climb through a jungle, narrowly escaping a tiger. Luckily they are saved by a colourful bird who carries them to safety.
The language is slightly bland at the beginning, It's raining, it's pouring. And Daddy is snoring, although the author's intent may be to reflect the boredom of the children.  Otherwise, this book is full of  imaginative rhyme, with the short phrasing helps to keep the pace moving. The onomatopoeia for the airplane sound was also fun and original ('neeeyowwwwm!').
The illustrations in this book are full of bright, vibrant colours. Using a combination of watercolour and ink, the reader feels they are in on the secret that the cave is really just the living room, the tiger is the family cat, and the gibbon with ribbons in its hair is their father.
Quick, Barney, Run! Is a fun picture book for children aged 4-7 that might just teach your children how to play without technology!
Faber & Faber 2018 Picture Book $14.99 ISBN 978-0-571-32752-2