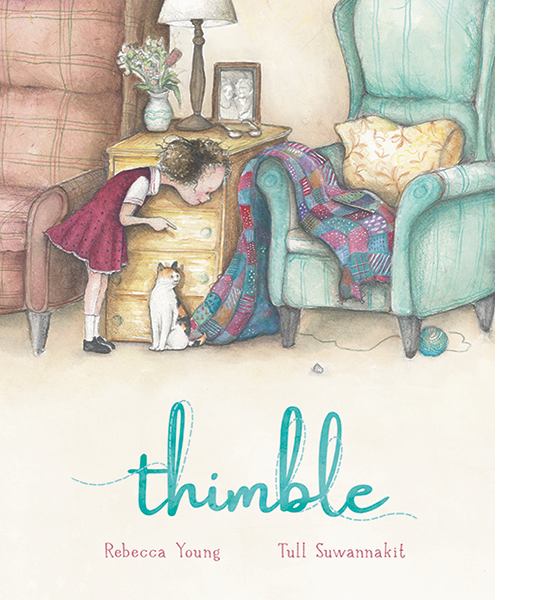 Thimble
Written by Rebecca Young 
Illustrated by Tull Suwannakit
Reviewed by Andrea Wilson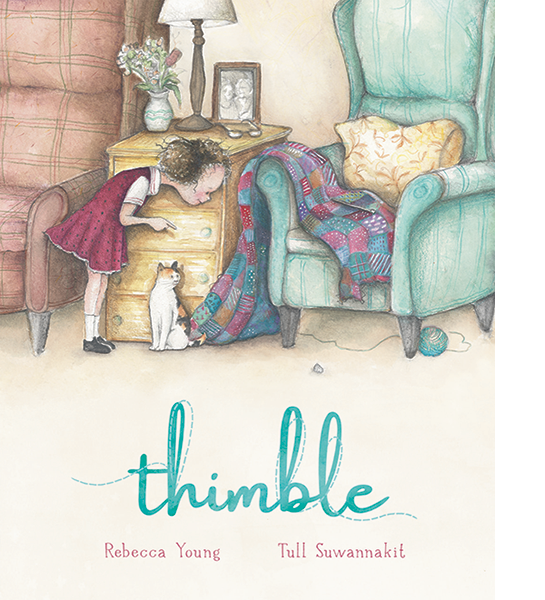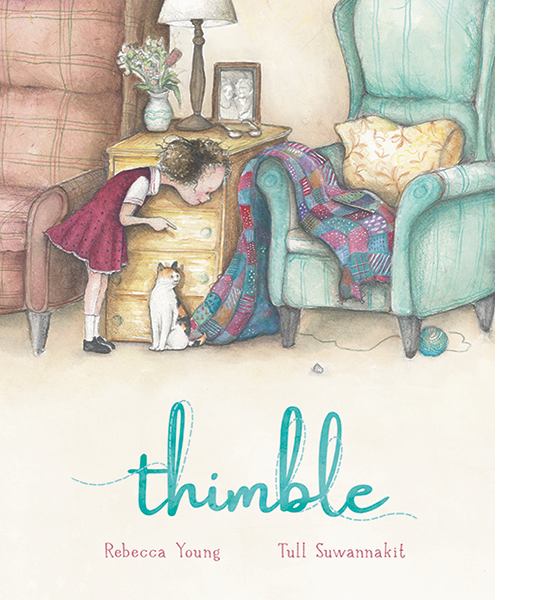 Losing a loved one is difficult, especially for young children. Thimble addresses the theme of death in a delicate and comforting way. Thimble is a picture book about a little girl whose grandmother has recently passed away. The girl finds a thimble that belonged to her grandmother and decides to keep it. The reader learns that her grandmother passed away before she was able to complete her quilt. Throughout the story, the girl wants to speak to her grandmother and is saddened when she realises this is not possible. As her mother is busy helping her grandfather, the girl must keep herself occupied. Using her grandmother's thimble, she decides to finish the quilt, which is warmly received by her family despite its imperfections.
This book uses short and simple sentences that are easy for children to understand. It is told in first person with authentic language, Grandad said Grandma was right in the middle of making a new blanket when her time came. The little girl's dialogue is so earnest that it is difficult to read without tears, e.g. My stitches weren't as tidy as Grandma's but I liked the way they looped along in waves of blue.  The only criticism for this story is the subplot of the mother helping the grandfather which slightly disrupts the flow of the story.
The illustrations in this book are a combination of watercolour and pencils. Tull uses warm greens and reds to depict the present day, and neutral shades to show memories of the girl's grandmother. The characters are drawn in a doll-like manner, and the Victorian farmhouse and furnishings lend an overall charm to the book.
Thimble! Is a warm and reassuring story that would comfort children aged 4-7 who are dealing with loss.
Scholastic Press 2018 Picture Book $24.99 ISBN 978-1-74381-162-7