The Rogues #1 Accidental Heroes
Written by Lian Tanner
Reviewed by Danielle Freeland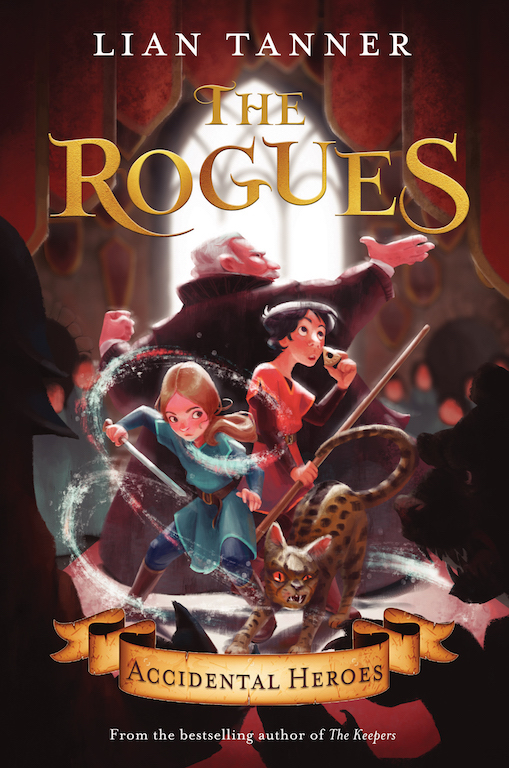 Lian Tanner has delivered an action-packed fantasy adventure story with plenty of suspense, you will be turning the pages and wanting more. The Accidental Heroes is the first book in The Rogues series which is set in the same world as Tanner's The Keepers series.
Duckling is a shrewd girl who lives with her grandfather, Lord Rump, a devious and deceitful man who uses his granddaughter as an accomplice in his deceptions to scam others for money. Duckling doesn't like what they do together and pleads with her grandfather to give up his dishonest ways. He promises that this next scam will be their last. She reluctantly agrees and goes to town to find a gullible boy to use as a pawn in his next money-making scheme. Duckling finds a boy at the market called Pummel who will be a perfect choice in their scam as he is an honest and gullible farm boy. Pummel becomes her grandfather's new apprentice and is pulled into his web of deceit. Duckling is greatly conflicted when she realises she too is being manipulated by her grandfather. Pummel and Duckling become unlikely allies against Lord Rump and find themselves embroiled in a plot to kill the heir to the throne.They must work some unusual magic to protect him and to save themselves.
There are some familiar themes and the magical world the children live in drives the book to new and interesting places. The sub-plots provide a level of complexity that adds a delightful richness to the plot, as do the rules of the world and the magical gifts Duckling and Pummel acquire. A map and a glossary would have been an extra bonus as would a list of magical rules. Readers 8 and up will love this story and its sequel Secret Guardians. An enjoyable book for young readers.
Allen & Unwin Children's Books 2017 384 pages Age 9 – 13 $19.99 ISBN
9781760293529