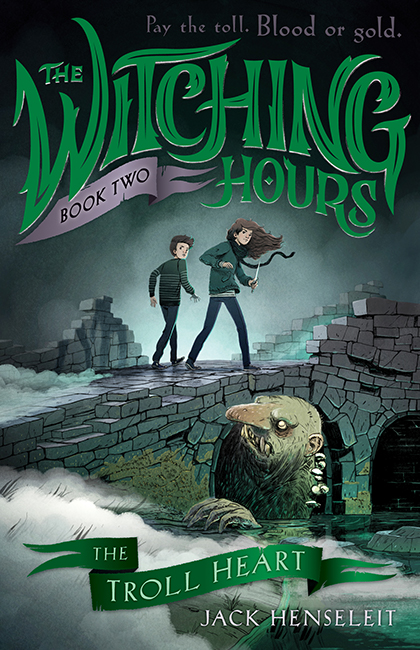 The Troll Heart #2 The Witching Hours
by Jack Henseleit
illustrated by Ryan Andrews
reviewed by Sandy Driessens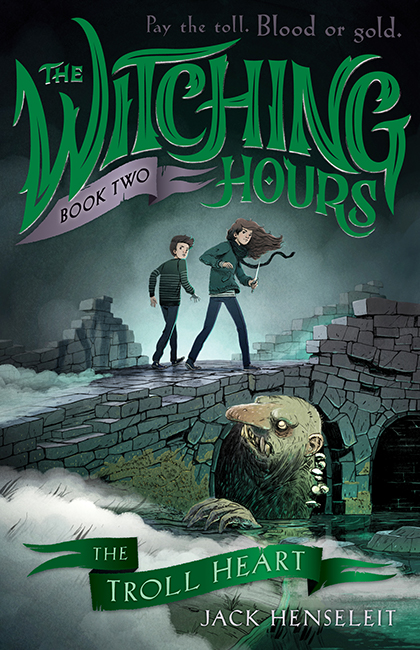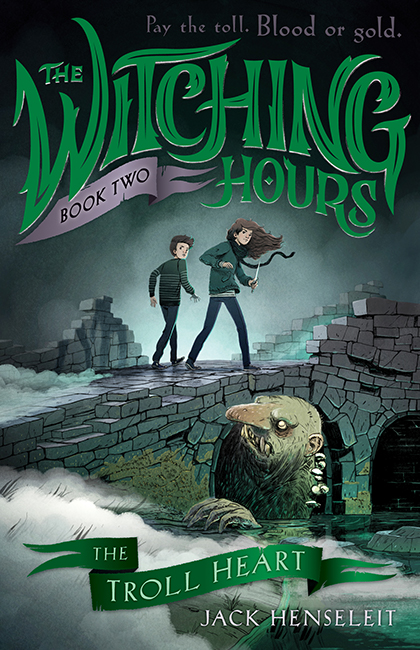 WARNING: DO NOT look for fairies. You will not find them. And if you do. YOU WILL REGRET IT. In this, the second book of The Witching Hours series, this warning still applies.
Our young adventurers, Anna (10 years) and Max (8 years) arrive at an eerie, English countryside hotel, "The Goat's Beard", in time to hear of the disappearance of a small boy. They decide to investigate as their absent-minded father, as usual,  leaves them to their own devices whilst he does his research. With a ominous local nursery rhyme, "Mr Shellycoat" echoing in her head Anna takes a reluctant Max to explore, certain that the mysterious disappearance has something to do with the dark world of "fairy monsters".
Anna enlists the help of Billy, the goat, with the magic of the "White Knife", which she acquired in their previous adventure and they begin their search by the river near the hotel. Out of the mist appears the troll's bridge but to cross, there is a toll to pay – "blood or gold". The price is paid and so begins another frightening journey into the sinister parallel world.
Jack Henseleit again weaves a story of fear and bravery, paying homage to " The Tree Billy Goats Gruff".  His references to the previous adventure inform the reader, who has not read book one, of the knowledge and scars that the characters acquired. His enthusiastic writing style continues to keep the reader engaged by creating cliffhangers at the end of each chapter.
Artist, Ryan Andrews' misty illustration and green horror font on the cover convey tension and mystery. Throughout the book his dark, scratchy plates are few but well placed to create the feeling of dread.
I enjoyed reading this to my grandsons and they in turn can't wait to hear the next adventure.  I highly recommend this book and look forward to reading the next books in this series.
Hardie Grant Egmont Publishing 2018  Paperback $16.99 246 pages Age 8+ ISBN 978-1-7601-2926-2