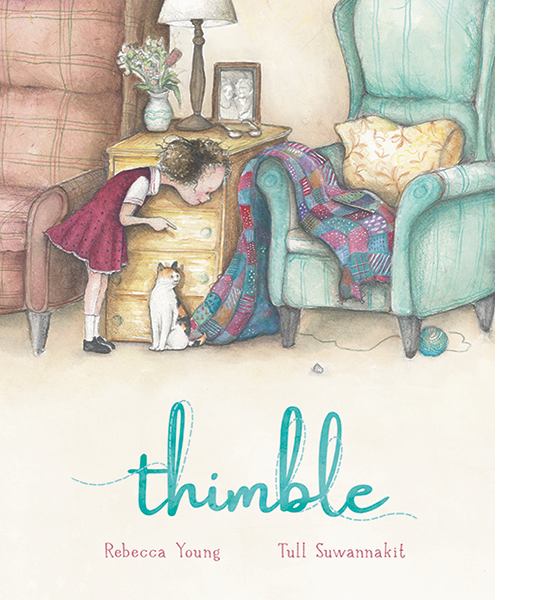 Thimble
by Rebecca Young
illustrated by Tull Suwannakit
reviewed by Sandy Driessens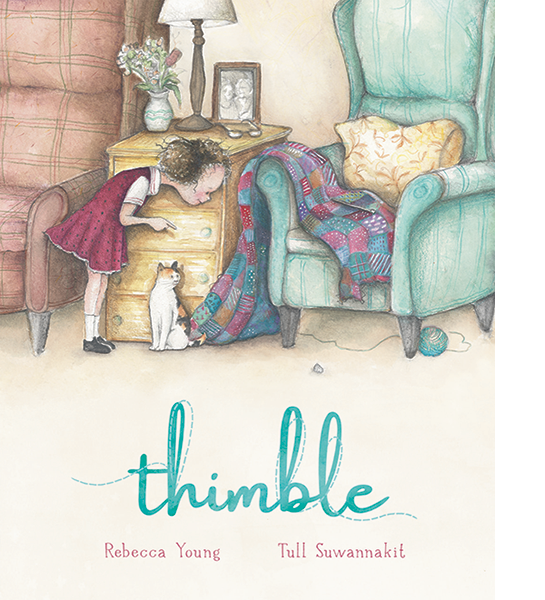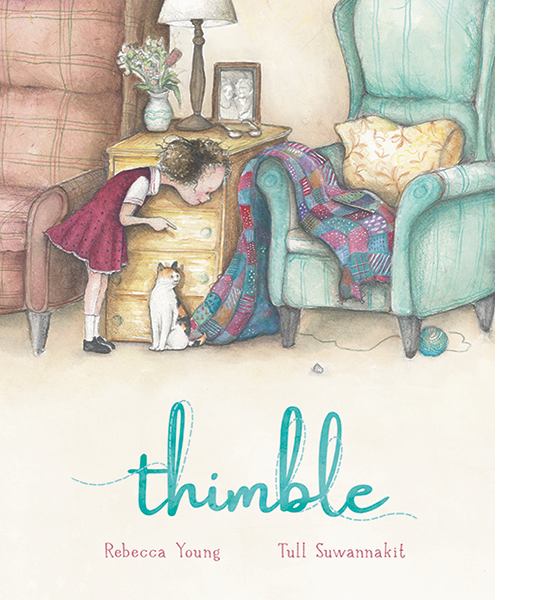 Attracted by the delightful, gentle illustration on the cover, then tracing my finger over the embossed lettering of "Thimble" with running stitch not quite lining up, I knew this book was going to touch my heart. Then turning to the back cover, "When her grandmother's time comes, Mabel finds something left behind." I asked myself, "How are these creators going to handle this sensitive issue?"
When Grandma passed away, Mabel found her silver thimble, "like a small spilled cup". It had fallen on the floor whilst Grandma was making a new blanket. Mabel's mother had come to help Grandad now that Grandma was no longer there and suggests that Mabel explore Grandma's garden then "find something to do". So begins Mabel's tender journey of accepting and embracing the passing of her beloved Grandma.
Written with the simplicity that captures the innocent way a child views loss of a loved one, Rebecca Young weaves a story of joyful remembrance. Tull Suwannakit's illustrations complete the beautifully stitched fabric with sepia snapshots of memories alongside spreads of soft watercolour and pencil images that evoke reflection. Thoughtful formatting and production of this book would make it perfect for a family collection.
This lovely picture book, perhaps created for young ones, is suitable for all ages. It will comfort those who have lost a loved one and possibly  inspire those, who may be approaching the "leaving" stage of life, to explore their legacy.  This story, to me, is about treasuring the "somethings and someones" left behind.
Scholastic Press 2018 Picture Book $24.99 ISBN 978-1-74381-162-7