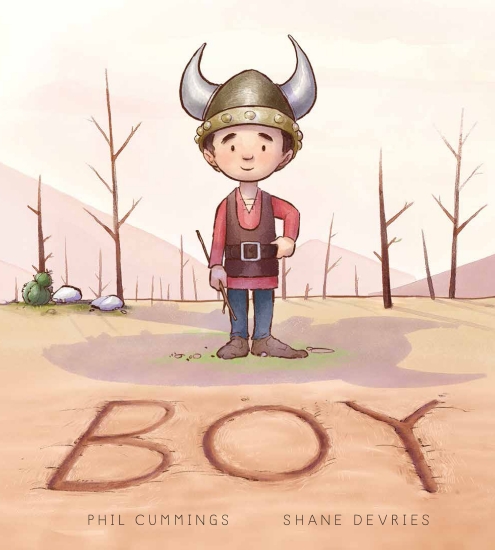 Boy
by Phil Cummings
illustrated by Shane Devries
reviewed by Claire Monsour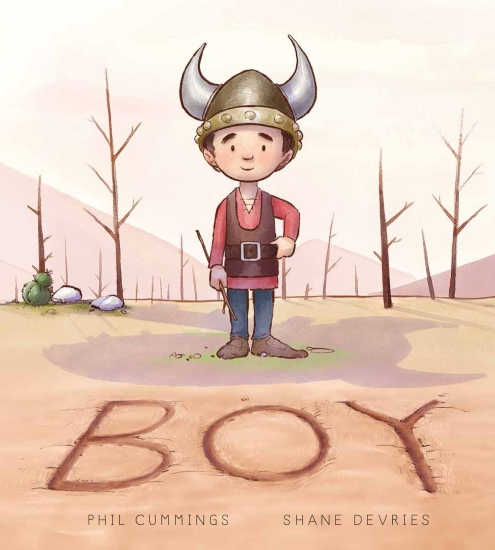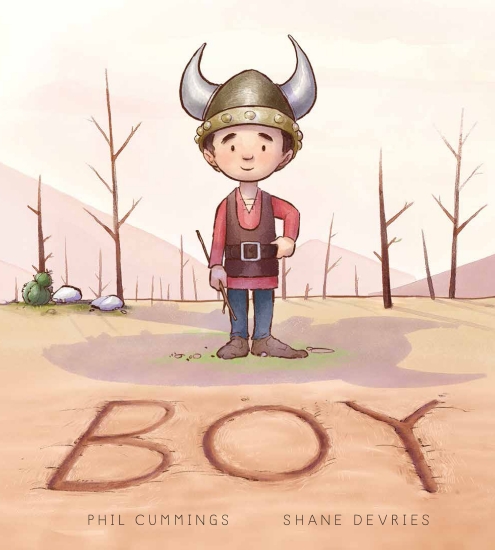 Boy is the story of a young boy, named "Boy", who lives in a village in a land ruled by a powerful king. The kingdom is being terrorised by a fire-breathing dragon. Boy can't hear, but he's a very happy child. He communicates with his hands, signing, and tells wonderful stories that his parents love!… but the villagers can't understand him, and think he's weird.
There are a lot of battles with the king's army and the dragon. Boy can't hear the horrible noises of the battles, but he can see and feel his parents' fear. During one battle, Boy is distracted while playing and accidentally ends up in the middle of the battle. He can't hear the warnings of the king to get out of the way.
When the king and his soldiers come up to confront him, Boy starts to sign to them. The king and his knights are astounded – they've never seen sign language before! Boy asks why they are fighting, and starts a discussion between the king and the dragon. It turns out that nobody really wants to be fighting! It's all a big misunderstanding. The dragon and the king agree to live in peace, and all of the villagers are so happy that they thank boy… by signing "thank you".
This story is a simple but truly heartwarming tale. It uses Boy's difference to highlight how thinking from another perspective can solve problems, and how everyone has value even if at first they seem weird. The language is simple but powerful, and the print really pops on the page with the onomatopoeia of the battle emphasised. The illustrations beautifully complement the narrative, and are visually appealing to a young audience while still being detailed enough to inspire further conversation.
This book was short-listed for Speech Pathology Australia's Book of the Year Awards 2018 in the 3-5 years category. Teacher's Notes
Scholastic Australia, 2017 Hardback Picture Book $24.99 ISNB 9781760277055