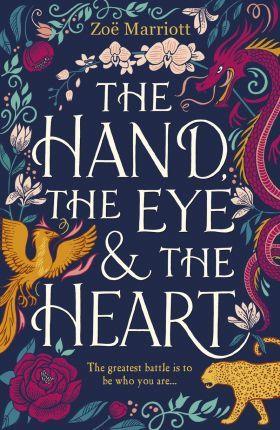 The Hand, the Eye and the Heart
by Zoe Marriott
reviewed by Zewlan Moor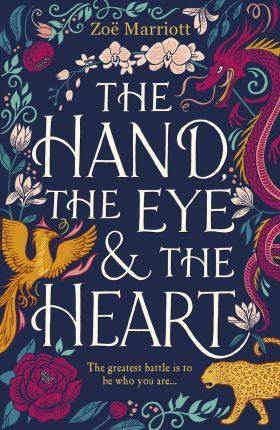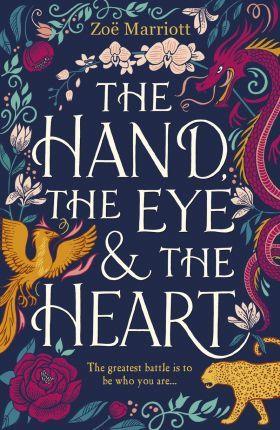 From the last line of the first page of The Hand, the Eye and the Heart, "And so I heard the assassin speak," I was hooked. From that first chapter, I knew I was in good hands with this talented and prolific young writer. This is not a genre I typically read, but I agreed to review it, mainly because I share a name, "Lan," meaning orchid with the main character. Surprisingly, I thoroughly enjoyed the tale of Zhilan, the daughter of a celebrated war-hero in the fantasy setting of the Chinese Red Empire.
She is born with the special gift of being a banner-breaker, someone who is able to manipulate qi to the extent that she can form an invisibility cloak or mirage over herself. She can appear differently on the outside, or even blend into the background to disappear.  A talented fighter, Zhilan is determined to take her father's place in the Emperor's army. She uses her gifts to disguise herself as a male army recruit and prove herself in battle. Along the way, she grapples with her gender identity and burgeoning attraction to both a male friend and a heroic war leader.
There are complex explorations of identity, love, power and gender relations in this book, elegantly symbolised by the banner-breaking and various other masks, uniforms and disguises donned by the characters. Zhi comes to understand the subtlety of male-female relationships, where "a man of such intelligence [could] understand so little" about the "will that a woman must have, to live without knowing if her husband, the one who is her only protection… is alive or dead." (375-6).
The Hand, the Eye and the Heart would appeal to mature YA readers interested in deep psychological studies and reflections on gender fluidity, as well as a cracking plot. The romance is limited to kissing, however, there are references to the realities of war, including rape and cannibalism.  The back cover blurb emphasises the main character's trans identity, with much mention of "their" challenges. The story within the covers is a more subtle exploration of roles, identity and belonging, issues that have been the fodder of literature for centuries (hello Shakespeare). Marriott, while identifying as a queer writer, is careful to state that this narrative is not an Own Voices story.
It's a shame that the majority of reviews on Goodreads focus on criticising the non-Asian author for drawing on Asian history and legend. I see this novel as an alternative historical fantasy with WuXia elements, in the style of Crouching Tiger, Hidden Dragon. Just as Shakespeare never set foot in fair Verona, I do not expect Marriott, nor indeed any contemporary Asian writer, to have direct access to mythic China.
Walker Books 2019 Paperback 448 Pages $17.99 ISBN 9781406383546