Joy
by Jasmeen Ismail
illustrated by Jenni Desmond
reviewed by Kerry Neary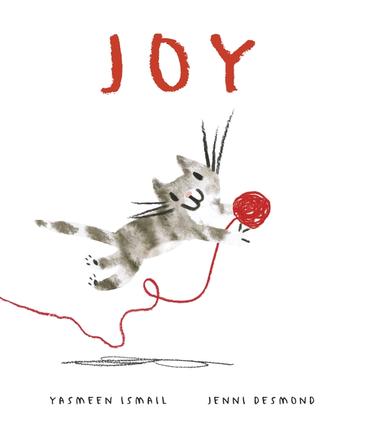 It's the illustration rather than the title that foretells the whimsy in Joy.  The cover picture is a spirited kitten chasing a ball of string across the page as it unravels across the page. Most of the story is told through the illustrations with an accompanying text that acts like a sound effects track, filled with energetic action words.
The curious kitten gets into all sorts of strife as it follows its favourite toy through the rooms until it slips on the floor and out the cat flap into the garden. Never to fear, Mother cat is always near – as is the big grey dog that joined in the chase. The splashy watercolour style suits the vibrancy of this story and the bright contrast of the white backgrounds accentuates the fun.
Yasmeen Ismail is an award-winning illustrator and animator who has a love of inks, paints and watercolours. She has won The New York Times' Best Illustrated Book Award and the V&A Best Illustrated Book Award and been long listed for the Kate Greenaway Medal.
Jenni Desmond is an illustrator, artist and picture book author, working from a studio in a rattling railway arch in east London. She graduated with distinction from the Masters in Children's Book Illustration at Cambridge School of Art . Her first picture book won the Cambridgeshire "Read it Again" Picture Book award 2013. Her most recent book for Walker is On the Night of the Shooting Star, written by Amy Hest.
Walker Books 2019 Hardback 24.99 Picture book ISBN 9781406385205