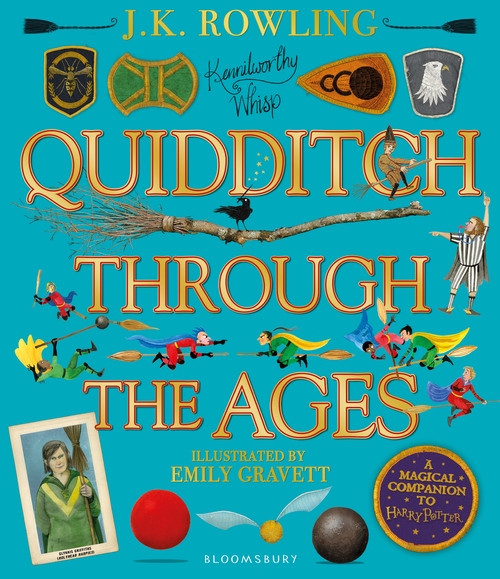 Quidditch Through the Ages Illustrated Edition
By J K Rowling; Kennilworthy Whisp
Illustrated by Emily Gravett
Reviewed by Mia Macrossan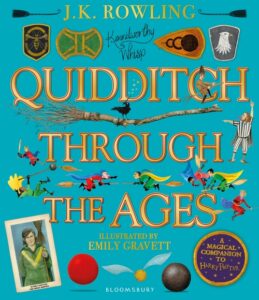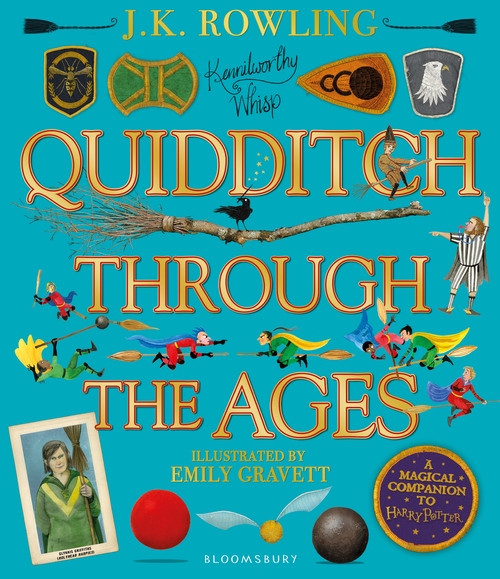 This magnificent edition is a must for any Harry Potter fan. It is incredibly detailed encouraging hours of browsing and just gorgeously illustrated by Emily Gravett.
The book invites readers to take an extended and leisurely tour through the history of the game, reliving epic matches and great moments, exploring changes in the game such as finding out about the golden snitch, the development of the racing broom  and learning  how the game spread world wide.
Did you know that  Quidditch came  to Australia in the eighteenth century? Famous Australian teams include the Thundelarra Thunderers and the Wollongong Warriors.
Rowling is,  as always, inventive and engaging, creating many mini stories around aspects of the game, peopled with entertaining characters such as the witch Gertie Keddle, Agatha Chubb, the expert in ancient wizarding artefacts and Zacharias Mumps who set down the first full description of the game.
Emily Gravett does a marvellous job of making it all incredibly real. She gives us portraits, charms on parchments, examples of illustrations of witches done by Muggles (very reminiscent of the Meg and Mog books), advertisements, pages from books, postcards, maps, charts, even a beer mat advertising a team's famous mascot. The illustrations are many and enrich the book immeasurably.
A wonderful gift for anyone who enjoys games both real and imaginary.
Proceeds of the sale of this book go towards Comic Relief and Lumos,  charities set up by Rowling to help prepare disadvantaged children  for the future.
Bloomsbury 2020