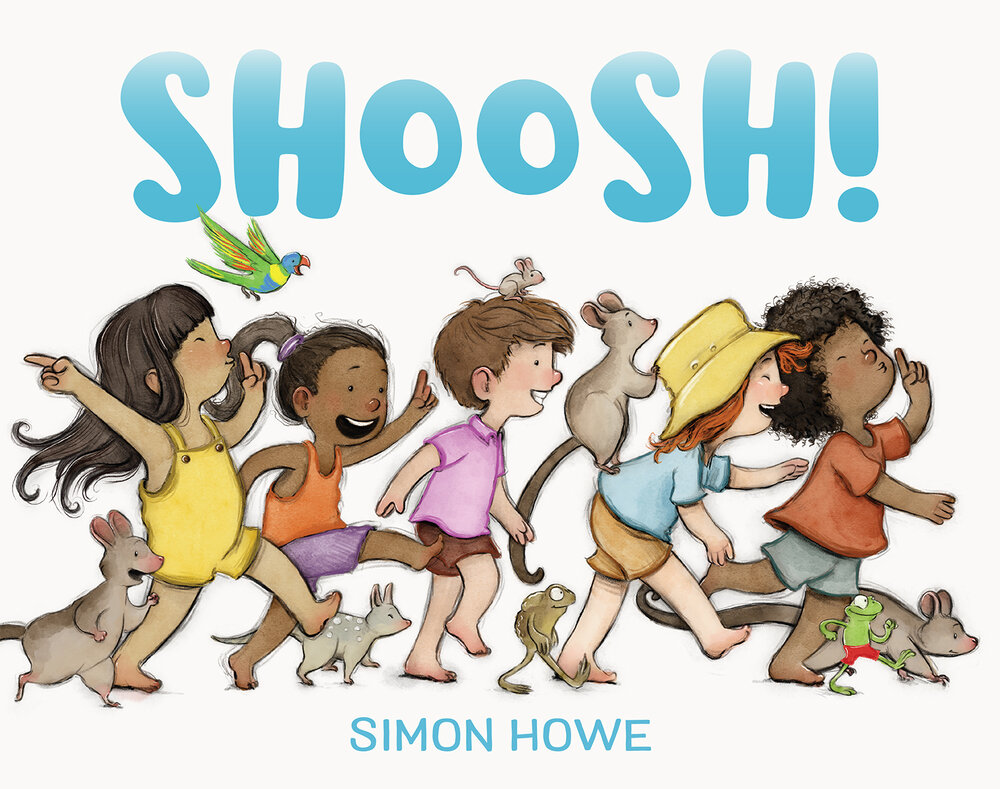 Shoosh!
Written and illustrated by Simon Howe
Reviewed by Mia Macrossan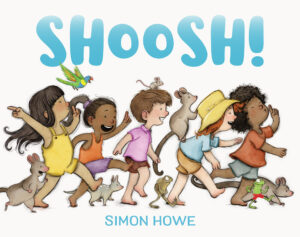 Simon Howe is a picture book illustrator who has worked on many projects including Natalie Pryor's Naughty Dragons series. This is the first book that he has both written and illustrated.
A tired dad asks the children to be quiet because the baby is asleep and he is worried that any noise may wake her up. But it isn't only the children making a noise. There are possums playing football on the roof, frogs frolicking in a pool, not to mention noisy bats, cicadas, cane toads, turkeys and finally a guitar playing wallaby! Frequent 'shooshing' achieves quiet but is that really what the baby needs?
This charming story has a real Queensland flavour from the iconic Queensland house to all the local animals. Anyone from Queensland will be familiar with the noises created by our animal friends. Who hasn't heard possums on the roof?
The illustrations are colourful and lively showing a bunch of five ethnically diverse children all enthusiastically trying to achieve quiet. Many children will enjoy the hullabaloo at the end, everyone will fall in love with the gorgeous spread of the sleeping baby but my favourite is the very last picture of the exhausted sleeping dad in the middle of a messy toy-bestrewn room.
The story is told in rhyming couplets with important words highlighted in a larger coloured font. This debut will appeal to a wide audience and is sure to become a firm favourite with its target audience.
Shoosh is one of the new picture books for Queensland's youngest readers as part of First 5 Forever, an early literacy program  initiated by the Queensland Government and coordinated by the State Library of Queensland. 
State Library of Queensland 2020 First 5 Forever