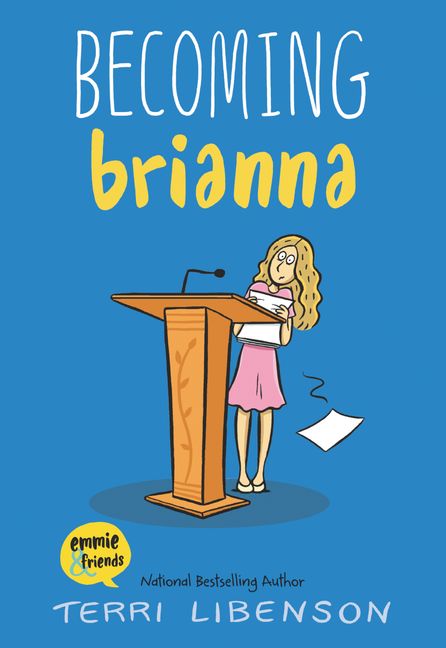 Becoming Brianna
By Terri Libenson
Reviewed by Sarah Custance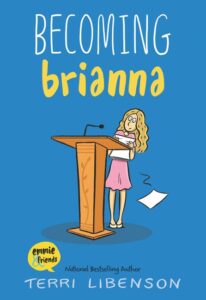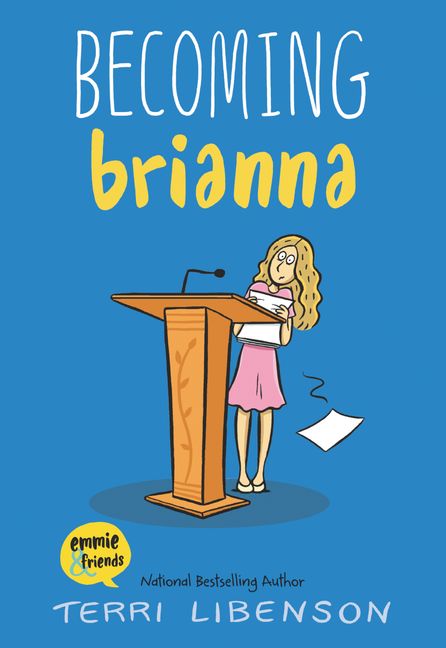 Becoming Brianna is the fourth book in the Emmie & Friends series written by American author Terri Libenson. I would discourage readers from picking up this book without first reading the rest of the series in order as (more than any of the other three novels) this book heavily mentions characters and events from the rest of the works that may be confusing without context.
Unlike the first three books in the Emmie & Friends series, Becoming Brianna focuses only on one character rather than two and instead the novel time jumps from 'past Brianna' to 'current Brianna'. This is the second novel specifically about Bri as she was also one of the two main characters in Positively Izzy.
In this book we see Brianna once again facing the spotlight (something which she loathes) but this time for her own Bat Mitzvah. Bri is now forced to juggle her regular school studies with Hebrew school, learning a new language, planning a party, giving a speech, questioning her faith and heritage, fighting parents, friendship dramas, and wondering who exactly she is doing all of this for and why.
In true Terri Libenson style the book is half general novel which is all about 'past Brianna' and half graphic novel which is all about 'current Brianna'. The switching timelines works to the advantage of this specific book as the reader is given insight as to how the idea of a Bat Mitzvah began and all of the dramas along the way until its conclusion actually on the day of the Bat Mitzvah.
Family, friends, and faith are all big parts of this story in how Brianna deals with each of the issues arising. One of the most interesting parts of the book are when Brianna questions why she is going through with something she's not even sure she believes in and her scepticism about the Hebrew faith along with her struggle to find herself amid something that she is clearly only doing to appease her mother.
Though the book has some heavy themes, readers will find that it is still as relatable and honest as the first three novels and draws you into the plot just as quickly. I would highly recommend this entire series to any school that is wanting to build upon their graphic novel section or any readers who are interested in graphic novels. All four books are a nice blend of a more traditional writing style mixed with the Graphic Novel flair.
HarperCollins 2020