Eliza Vanda's Button Box
By Emily Rodda
Reviewed by Mia Macrossan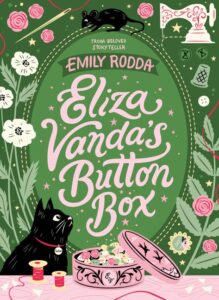 Here is another original fantasy from one of Australia's best-loved writers for children. Almost every family has a button box filled with odd buttons collected over the years, but Eliza Vanda's button box contains some very unusual buttons indeed.
Milly Dynes lives in Tidgy Bay with her Dad and her Step Mum who is in hospital with baby Flora who came a bit early. Her Dad is an artist who also rents out cabins for holiday visitors to make ends meet. Milly is feeling a little unsettled by all these developments and when the interesting and unusual Eliza Vanda arrives needing to rent one of their cabins she is intrigued.
EV, as she prefers to be known, is a travelling dressmaker and she asks Milly to help her get some things for the wedding dress she is trying to finish. All this sounds rather mundane but  EV's buttons are portals to different worlds  and Milly has to visit three of them, each one needing something special for the dress and from Milly herself!
In Blanca people keep some things on the outside instead of on the inside like we do, called mysies. There are memory mysies, curiosity mysies and temper mysies. Milly has to find her own courage to help Zollo, the owner of Rainbird's shop whose temper mysie has escaped. Its very amusing to read and gives the phrase 'losing your temper' a whole new meaning.
Next she has to find some poppies in Shimmer and she gets misled by a wicked witch and learns that beauty is no guarantee of goodness. Her final trip takes her to the kingdom of Gallop where she encounters Princess Rosie who is reluctant about marrying Prince Todd, an enchanted frog who like it that way.
Rodda cleverly interweaves the magic and mystery from these worlds into Milly's real world. She has created a fascinating cast of characters including Mrs Meaney, the besotted owner of the fierce cat Sultan,  the ever curious Peg in the shop, and Victor, EV's shape changing assistant as well as all the inhabitants of the other lands.
But this story belongs to Milly who changes from Milly the Mouse, a somewhat shy and introverted girl to someone who has a quiet confidence and belief in herself and can defend those she loves.
Eliza Vanda's Button Box  will enthral newly independent readers with its themes of self discovery, its beautifully realised setting, and the original world building. The short paragraphs, well spaced text in a largish font and the high production values, (the cover and endpapers are a triumph of colour and design), create an attractive outer that supports the carefully crafted story within.
I will never look at Grandma's button box the same way ever again!
Harper Collins 2021