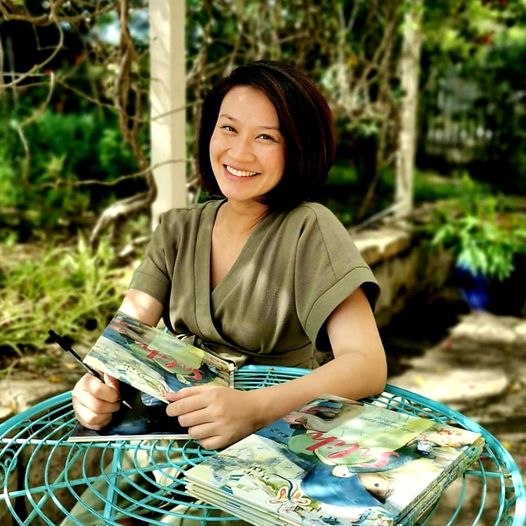 StoryLinks interviews Inda Ahmad Zahri
Inda Ahmad Zahri talked with Mia Macrossan about her writing life and her debut picture book Salih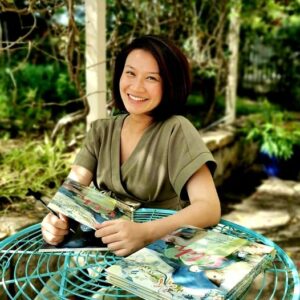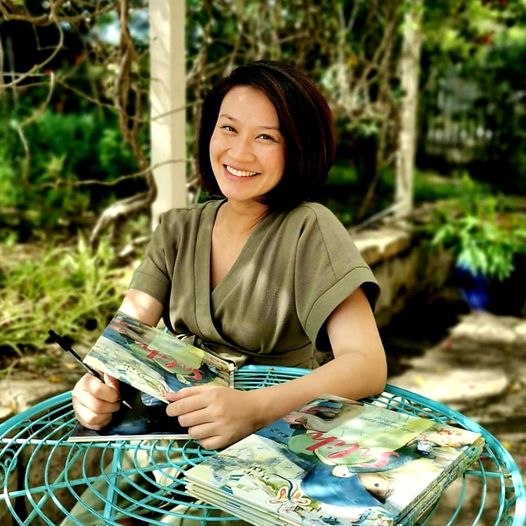 About Inda
Books have got her into a number of sticky situations…
'As a little girl, I read in the dark when I should've been asleep. Cocooned under the covers, I turned into an official bookworm, complete with clunky glasses. Books spurred me on to faraway places. From my birth place in Malaysia, I roamed far and wide. I went to university in England and graduated as a doctor in medicine and surgery. When I moved to Australia, I met a guy who took me to the beach on sunny days and to old, glorious bookshops when it rained. Now, we share our favourite books with a little person with a hunger for stories that keeps me writing, drawing, painting and dreaming up impossible tales.'
Salih, illustrated by Anne Ryan, with Ford St Publishing, is her first picture book. It tells the story of a little boy who, like a turtle, must cross the raging sea while carrying his home on his back. It echoes a refugee's perilous journey and offers a message of hope. Inda is also looking forward to the publication of her second picture book, Night Lights, illustrated by Lesley McGee, to be published by Little Pink Dog Books later this year. She occasionally does crazy things – she once spent 21 days in a row without coffee and survived!
Congratulations Inda on getting your first book published. What does it feel like?
It feels wonderful. As you know, things move very slowly in publishing, and Salih's release is the culmination of years of effort – writing, pitching, submitting, editing etc. I love that it is finally out in the world, and one of the best things about the experience is being able to celebrate it with such a supportive kid lit community.
Now that the book is in print are there things you would like to change, wish you had done differently, or, are you already deeply immersed in the next story? Or maybe in between?
I don't think I could have asked for a better team to honour Salih's story, from the publishers Paul Collins and Meredith Costain, to editor Nan McNab, illustrator Anne Ryan and book designer Ralph Harpur. Doubt always creeps in during a creative journey – at times I wondered why I would write such a serious story for a young audience, and if there was even a role for it, but the support that I've received so far has reassured me that our good intentions were well-placed. So, aside from small niggles that I'd be hard-pressed to pinpoint now, I don't have any regrets. Incidentally, I've recently read the excellent The Midnight Library by Matt Haig which explores the 'what ifs' in life, and I'm more convinced than ever that things happen for a reason!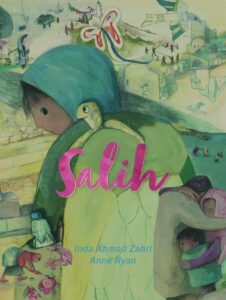 What inspired you to write Salih? What are your hopes for the story?
I find the struggles of refugees during their journey and in their detainment absolutely heart-breaking. The sheer number of people having to flee from danger all around the world still have not diminished over the past decades as one humanitarian crisis is heaped upon another, but every once in while, there is an increased awareness of a particular tragedy.  Around the time that I wrote Salih, the airwaves were full of stories of refugees crossing the Mediterranean from Africa or the Middle East into Europe. So, although I've been learning about refugees and have been active in groups since university, I would say that this turning point in history was the inspiration to put pen to paper and imagine kindness and safety in such a bleak world. I hope that a book like Salih can serve as a platform for discussion in homes and classes about the plight of refugees and the possibility of a kind reception for all people. To see beyond numbers and blame and recognise their very human hopes and fears. Salih, an Arabic name, also means 'goodness'. 
I was very fortunate to have Isobelle Carmody, fellow Ford St author and refugee activist, launch Salih for me. I remember her efforts as a one-woman protest against the unjust treatment of refugees, holding up signs in crowded public places for an hour each week, which brought on lots of emotions both for herself and the crowd, and once even caused her to be arrested! We spoke about this as we were planning the launch, and I brought up a hadith or Muslim tradition about a time when someone asked the Prophet Muhammad what they should do if they were to see an evil act. He replied, they should change it with their hands, and if they can't, then with their tongue, and if they can't, then with their heart, for that is the weakest of faith. In a way, I feel like writing this humble book is my weakest of faith.
You also illustrate as well as write. Is Salih, beautifully illustrated by Anne Ryan, different from what you imagined? Talk to us about the relationship between illustrator and writer – so important in a picture book.
I couldn't help envision scenes as I was writing Salih, but these images or imaginings were never really concrete, as I always knew that the other half of the storytelling – the illustrations – were yet to come, and may not be my own. Anne did a wonderful job at conveying so much more than a narrative. I feel like she painted all sorts of emotions and really contributed to the story in a way that I could not have on my own. During the making of the book, Anne and I communicated via our editor Nan McNab, who had first gone through the manuscript edit with me. I felt very privileged to be a part of the process, and instantly loved Anne's concept sketches. As we moved along, I would comment on certain things that I thought worthwhile mentioning, but for the most part I did not want to interfere with Anne's own process and was very mindful of respecting her autonomy as the illustrator. Just before the book launch, we spoke on the phone for the first time and it was really lovely to talk about how we each connected with the text and illustration, and how much synchronicity there was without us even realising it.
What are you working on at the moment?
I always have a few picture books on the go, in various stages of revision or submission. I'm working very closely with my literary agent, Annabel Barker, on these. I am working on a longer project – a middle grade adventure trilogy. I won a spot in the 2021 ASA Award Mentorship Program and a chance to work with Robyn Sheahan-Bright on the first of these books. Aside from that, I'm also working on illustration techniques and ideas for that book I might illustrate in the future!
What was your favourite children's book/s as a child?
This is a very hard question! Ironically, I don't remember many specific picture books – I think my love for these really burgeoned when reading them with my daughter – but some titles that I adored were Matilda by Roald Dahl, Call of the Wild by Jack London and The Faraway Tree series by Enid Blyton.
What are you reading now?
I've just finished How it feels to Float by Helena Fox, whose story and voice completely consumed me. What a book!
Inda, thank you for talking to StoryLinks, and we wish you all the best in both your writing adventures and your life's journey.