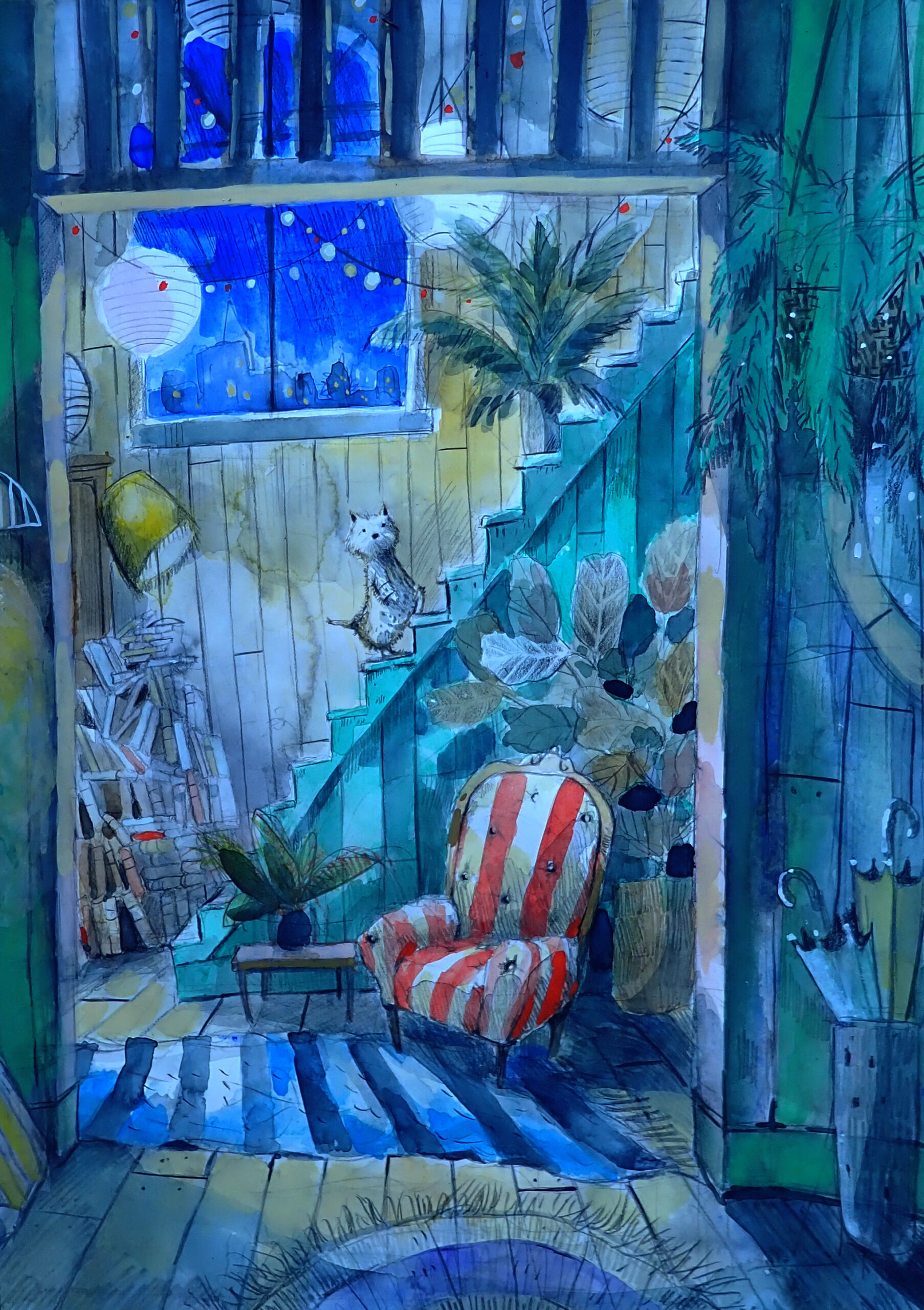 Illustrators' Art Exhibition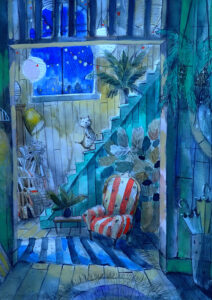 Understory: An Adventure in the Art of Illustration
featuring the work of
Date: Monday 21 June – Sunday 27 June, 2021
at the Richard Randall Art Studio, Mt Coot-tha Botanic Gardens, Brisbane
Time: Open Daily 10.00 am Free admission.
Join us for the Book Links Exhibition 'Understory – An adventure into the art of illustration,' showcasing a trio of local artists who create amazing books for children as well as other art.
Caroline Magerl: Picture books have a back-story – material that remains offstage during the process of shaping the text and the images for publication. I enjoy telling people about all these peripherals, the "understory" of picture books.
All my books have such stories, which inevitably become images such as the ones in this exhibition. There images are important as they are the initial steps toward my published picture books.
This painting 'The Visitor' of my dog Katie, is a good example of how potential stories develop.
Katie was a dear little homebody all her life. I thought I knew her well, until I had a conversation with our neighbour.
It seemed that early in the morning, as I was still shuffling about looking for my glasses, Katie was slipping through a hole in the hedge. She visited our neighbour's house and with some amusement, they let her in. It appears she proceeded to snuffle around every room and having inspected thoroughly, she politely asked to be let out again. Then without a backward glance, Katie walked back across the road to home.
Apparently she did this quite often, and not just one house … there were others. On hearing this, my first thought was one of gratitude that there is very little traffic in our cul-de-sac. Then I felt a bemused delight that Katie had a secret life…. what other surprises did she have for me. It turned out, there would be more to learn about our little homebody.
Once I had a window into Katie's other life, images of her travels in the neighbourhood occurred to me. I soon began to re-imagine her adventures on paper, and many paintings owe their existence to learning of my little dog's wanderings. That is where a picture book idea starts for me.
Join us for an adventure into the world of illustration