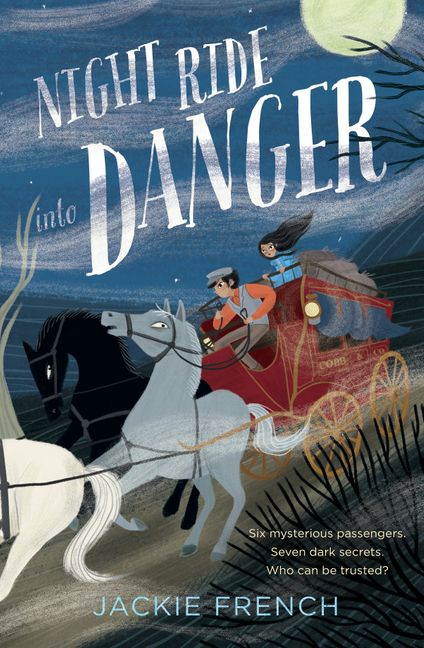 Night Ride into Danger
Written by Jackie French.
Reviewed by Sandy Driessens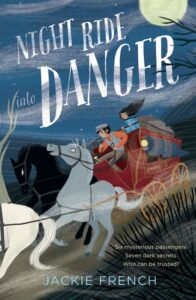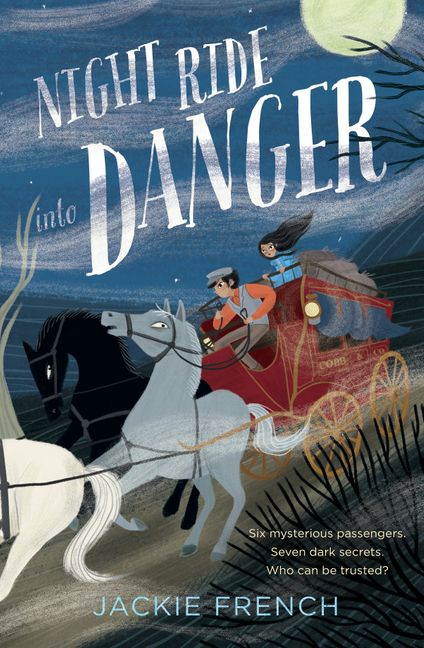 Stories that speak to her ancestry and personal history have inspired another engaging historical fiction from the prolific Jackie French.
The night run of the Cobb and Co mail coach to Goulburn was a gruelling, fourteen-hour ride and one that young Jem Donovan relished because sometimes his "Paw" would let him take the reins. Tonight, six passengers were travelling. An unusual assortment and, according to Ma Grimsby, there was "somethin' strange" about one of them, but which one?
All is going to schedule, even the creek crossing, but after the first stop and change of horses, disaster!  A slide on icy track and "Paw" is injured, unable to handle the coach. Could Jem guide the coach to the next station? The choice is no longer his, when the enigmatic Mr John Smith says, "You can drive the coach and me to Goulburn, and no stopping till we get there." At gun-point Jem drives the coach and team into the night, a dangerous ride that uncovers the secrets of all his passengers.
Filled with action, French constructs an exciting adventure. Her imagery fills your nostrils with the smell of the Australian bush, horses, saddlery and timber. The dialogue makes you understand the tension between the characters as their individual stories unfold and reveals the urgency of this journey for each of them.
In the Afterword French explains the "era-appropriate" language and the history behind the story and characters. Including the Henry Lawson poems is also fitting and rounds out the feel of the story and opens it up for discussion.
Night Ride Into Danger gives insight into to some of the methods employed at that time to deal with the harsh Australian life and the bigotry of some of the people whilst at the same time being an uplifting adventure and an easy read.
I enjoyed it immensely, as I believe will most young readers from 10 years.
HarperCollins Au 2021