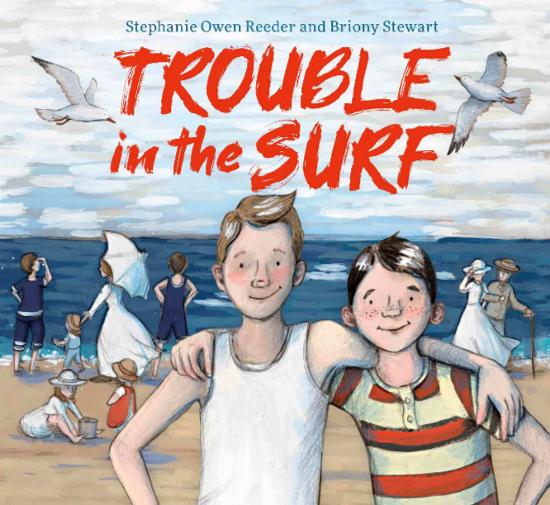 Trouble in the Surf
By Stephanie Owen Reeder
Illustrated by Briony Stewart
Reviewed by Margarite Igras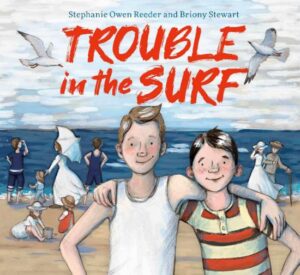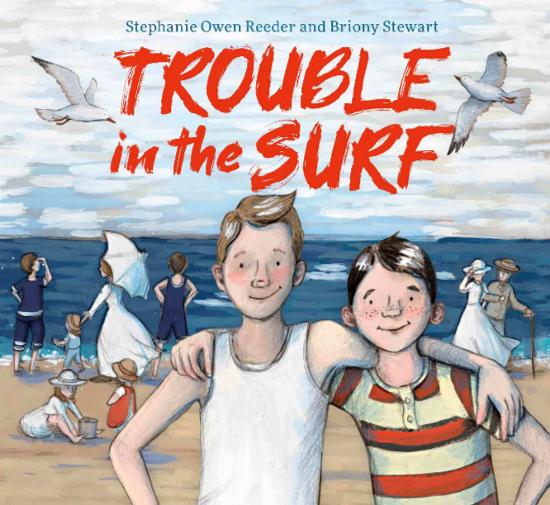 Stephanie Owen Reeder  has spent many childhood hours on Bondi Beach and  has transformed her experiences into a true story about the dangers of the surf as well providing  an introduction to some Australian history.
Set in Sydney Town 1907, two nine-year old cousins, Charlie Smith and Rupert Swallow are excited about spending the hot summer day at the beach. They catch a tram to Bondi and are soon barrelling into the surf.  Distracted by seagulls overhead, the boys have ventured way past the breakers and are caught in a strong rip that is dragging them out to sea. Fortunately, a woman on the beach, Nurse Sadie Sweeney sees the flailing arm and calls for help.
We discover that Charlie, the boy she saves, is no other than Sir Charles Kingsford Smith the famous Australian aviator of the 1930s.  We also learn that this book tells the story of the beginning of Surf Lifesaving in Australia.
The text is short, clear, and informative and together with the colourful illustrations that fill each page, it paints a picture of Sydney at the turn of last century and is a likely forum for discussion about all the changes that have happened between then and now.
This is a worthy Australian history resource for younger children with further information at the end of the book about Kingsford Smith, and the history of the first lifesaving club in Australia.
Notable 2020 Eve Pownall Book
NLA Publishing 2019