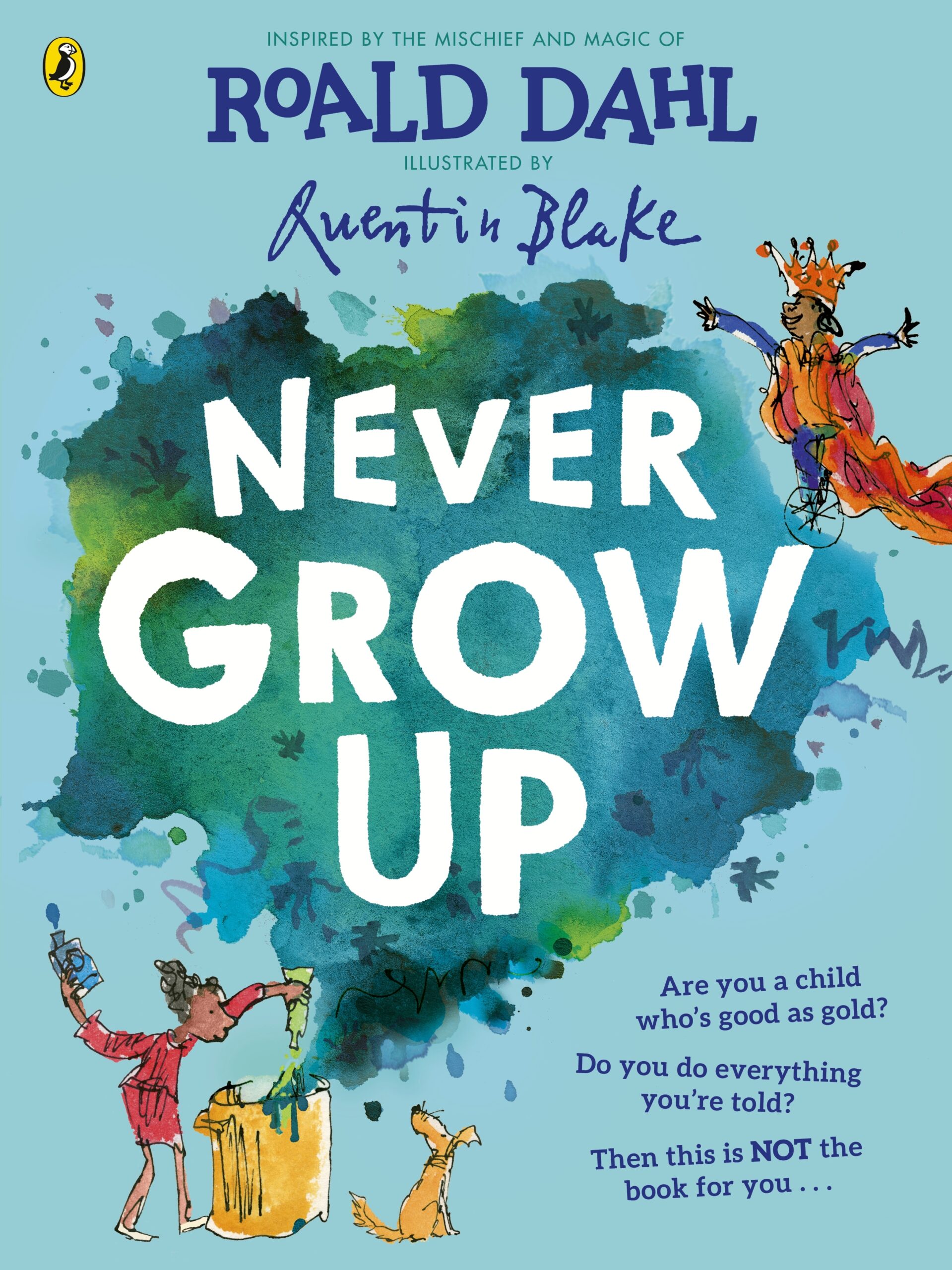 Never Grow Up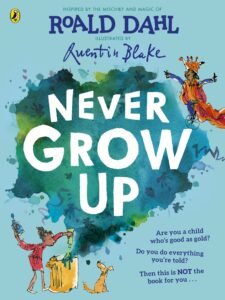 Inspired by Roald Dahl
By Al Blyth and Stella Gurney 
Illustrated by Quentin Blake
Reviewed by Sandy Driessens
Never Grow Up by Roald Dahl … but wait, no, this story was inspired by Dahl, then created by Al Blyth and Stella Gurney with the iconic illustrations of Quentin Blake.
You're a more unusual child, the kind who's mischievous and wild.
This rambunctiously rhyming picture book illustrates the antics of childhood (painted tongues and scraped knees) that lead into a creative adulthood (whizz around in a helicopter, a fearless, flying ostrich doctor!).
This is all about mischief-makers and rule breakers who should never grow up.
The bouncy, rhyming text created by Al Blyth, a playwright, and Stella Gurney, children's author, has the boldness and excitement that we've come to expect from Roald Dahl. With a healthy dose of alliteration and mature diction, the vocabulary invites questions and conversation. Blyth and Gurney are skilful in making this book a melodious read and it's unfortunate that they receive no recognition on the cover.
Of course, having illustrated previous Dahl stories, Blake's ink and watercolour images have all the movement and colour we look for. His simple cartoons, with scratchy finish and loose paint splash, create a world of imagination. In the foreword, he hopes that Dahl would have liked them, and I'm sure he would.
Technically for early childhood audiences, this book will be wonderful for all children and also all those still in touch with their inner child. The final phrase … NEVER GROW UP, always down! taken from George's Marvellous Medicine by Dahl,  should have been left at NEVER GROW UP so that we continue to  …Watch the world with glittering eyes, Keep noticing where the magic lies.
Puffin Books 2021