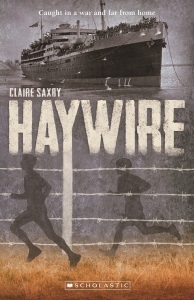 Haywire
By Claire Saxby
Reviewed by Mia Macrossan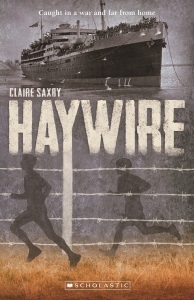 Claire Saxby is an Australian author of fiction, non-fiction and poetry for children, including the splendid Nature Storybooks series, The Anzac Billy and recently, the picture book Iceberg.
Haywire is the story of two boys on opposite sides in World War 2. In a suspenseful opening chapter the German boy, Max, is taken from his school by his mother and told he has to leave the country as it is now unsafe for them.
After a series of harrowing misadventures he ends up all alone in the newly established internment camp in Hay NSW where Tom lives there with his family, hating having to work in his father's bakery now that his older brothers have gone off to fight.
The two boys meet and form a bond of sorts as they are both trying to cope with a rapidly changing world, changing family dynamics and their own private shattered dreams.
Through the lives of these two boys Claire shows some of the many different ways people reacted to life at war. There are sudden marriages, loss of staff, loss of educational opportunities, changed attitudes, blanket hatreds, blind prejudice and attempts to understand the many sides of this huge conflict. The victims such as Max and Tom are caught up in it willy nilly.
Careful plotting and writing build up the details as  revealing  the emotional interior life of the two boys. While based on real events – there was an internment camp at Hay – the characters are imaginary but vividly brought to life in this impressive historical novel.
Children will enjoy this glimpse at another side of World War 2 and perhaps learn to think more deeply about the effects of war on everybody.
Haywire is on the Shortlist for the Book Links Historical Award for Children's Fiction