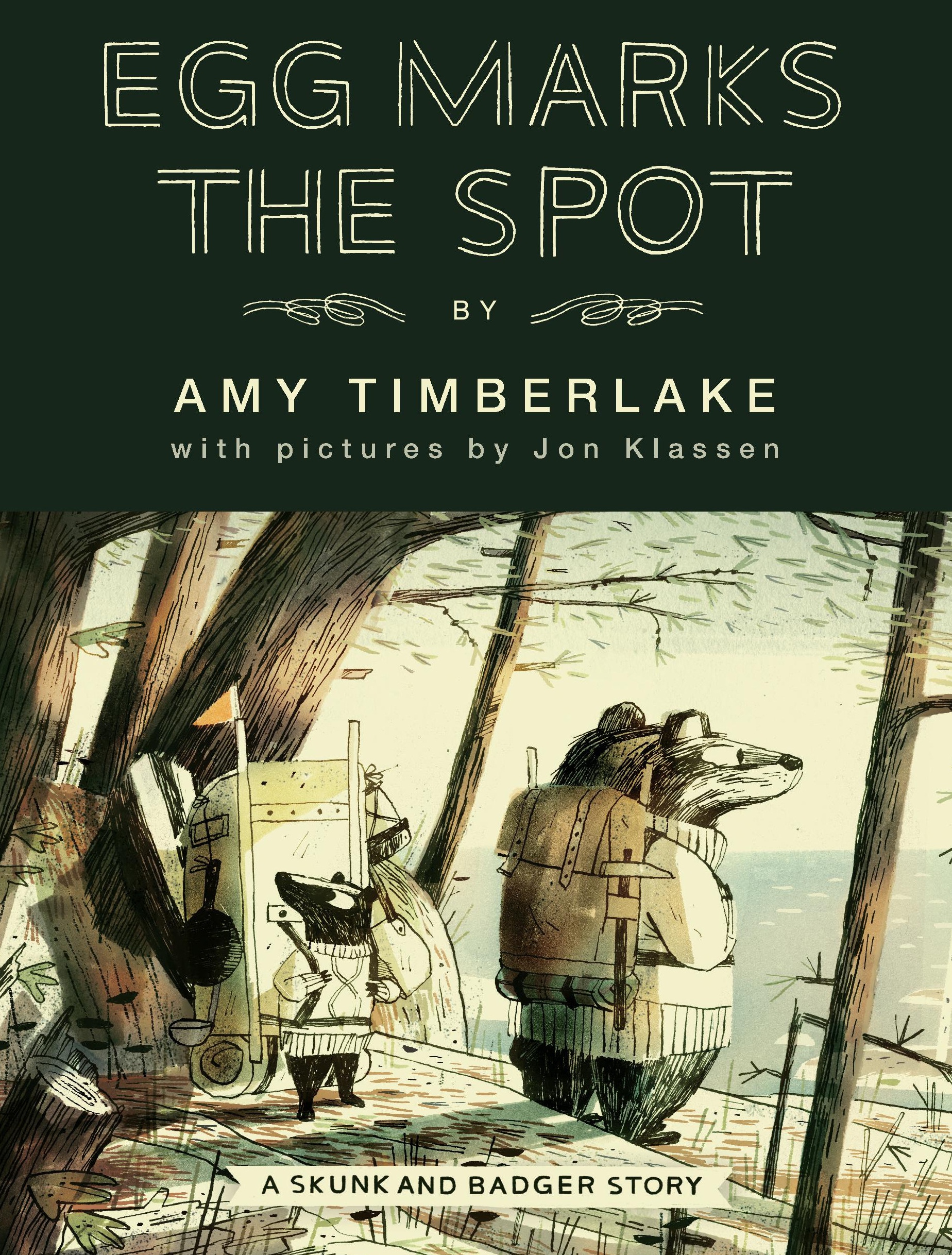 Egg Marks the Spot: Skunk and Badger #2
By Amy Timberlake
Illustrated by Jon Klassen
Reviewed by Mia Macrossan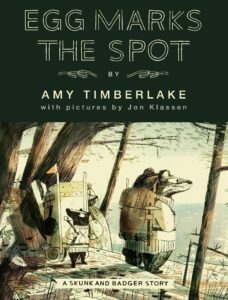 This is the follow up to Skunk and Badger by Amy Timberlake and also illustrated by Jon Klassens. That is a hilarious story about how two unlikely creatures become friends. Now there is a sequel, hooray! again featuring the spirited Skunk and the Important Rock Scientist, Badger, two creatures who could not be more different although united in their regard for each other.
Buried in the heart of every animal is a secret treasure. For  Badger, it's the Spider Eye Agate he found as a cub, stolen years ago by his crafty cousin, Fisher. For Badger's roommate, Skunk, the treasure is Sundays with the New Yak Times Book Review. When Mr. G. Hedgehog, announces his plan to come for the Book Review as soon as it thumps on the doorstep, Skunk decides an adventure will solve Badger's problems as well as his own. Together they set off on an agate-finding expedition to Badger's favourite spot on Endless Lake. But all is not as it seems at Campsite #5. Fisher appears unexpectedly. Then a chicken arrives who seems intent on staying. Something is up! There are secrets, betrayals, lies … and surprises.
Amy writes with energy, verve and control. Each chapter is full of ridiculous elements but somehow it all makes sense and the reader is happy to inhabit this world, in fact, sad when the story comes to an end. Poor Badger has a lot of trouble understanding the chicken dialect.  Skunk cooks up marvellous meals (wild garlic fried rice and a dandelion salad with an olive oil, mustard and maple syrup vinaigrette) He says: 'See all the dandelion greens? We have been sleeping in salad!'  There is a wonderful scene where a dinosaur eats a rat and every other rat scatters for cover, p 97. The story is packed with incident, humour and insight into human behaviour, yes, human. All  our foibles, our strengths and weaknesses, our fears and loves are there to be found in every creature.
Every page is a delight and I read it in one sitting and then enjoyed it even more the second time. I just hope that Amy and Jon are sitting down now and writing the third adventure.