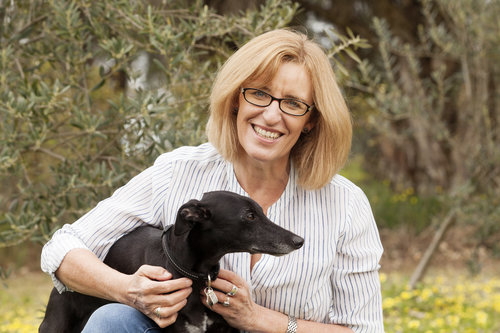 Katrina Nannestad talks about writing historical fiction
A well-written historical novel brings history alive and inspires young readers to ponder big issues – peace, justice, kindness and tolerance, to name just a few.
Katrina Nannestad is an  award winning Australian writer of distinctive middle grade fiction. This year she was shortlisted for the Book Links Award for Historical Fiction for Children for her novel We Are Wolves, the moving story of three children struggling to survive in East Prussia at the end of World War 2.
She very kindly agreed to answer some questions for us about her writing.
What is historical fiction to you and why do you write it?
Historical fiction is a way of sharing history in a manner that is relevant to a particular audience.  For children, this means we are able to introduce them to significant and fascinating events in a way they can understand and truly enjoy, without exposing them to details that are inappropriate for their age and level of understanding.
I write historical fiction because I enjoy the process – both the research and the creative challenge of weaving a story in and out of real events.   I find it especially exciting when I find a story that is new to me, because I hope that I will be sharing something fresh and new with my readers.
I also believe that a well-written historical novel brings history alive and inspires young readers to ponder big issues – peace, justice, kindness and tolerance, to name just a few.
Why did you choose this particular time/topic?
I stumbled across an article on the Wolfskinder (wolf children) quite by accident.
I was fascinated by the stories of these lost and orphaned children who survived, all on their own, sometimes for years after the war. They managed to endure harsh and dangerous conditions that robbed many adults of their lives. Their suffering was horrific. Their resilience was astonishing.
I was also amazed that I had never heard of these children before, and figured that perhaps this was not a well-known aspect of history, at least, not for Australians. It's quite exciting as a writer to think that you might be sharing something new with your readers.
How do you reconcile truth and fiction in your historical writing?
I strive to be accurate in all the historical details I share in my stories – dates, places, homes, education, food, clothing, lifestyle, beliefs, battles, the behaviour of soldiers and civilians during key events.  My characters are fictional, and I take them on a journey of my own choosing through a real time and place in history. I allow them to experience many of the things real people would have experienced at that point in history.
Who is your favourite writer of historical fiction? What is it about them that you admire?
For children, Morris Gleitzman. I think he is masterful in the way he tells a serious story in child-friendly manner. He creates colourful characters, uses accessible language and employs humour at just the right moments to keep his stories from becoming too heavy.
For adults, Geraldine Brooks.  I love that her books are highly entertaining, educational and inspiring all at the same time. And her subjects feel fresh and new.
What is next for you? I am reading Rabbit Soldier Angel Thief so maybe you have already answered that question.
At the end of October, Rabbit, Soldier, Angel, Thief is due for release.  It is the story of a little boy who serves with the Red Army throughout the Second World War.
I am currently halfway through writing another war story, but I'm not quite ready to share anything about the content yet.
I am also writing a lighter series for younger readers in between the war stories. The Travelling Bookshop is pure fantasy and takes my characters travelling around the world in their horse-drawn caravan, placing the right books into the right hands.
Thank you Katrina, for taking the time to talk to us. I am certainly enjoying reading Rabbit, Soldier, Angel, Thief. 
The winner of the inaugural Book Links Award for Historical Fiction for Children will be announced on Saturday 16 October from 4:00 – 4:45pm via ZOOM, free admission. Book here.
Mia Macrossan