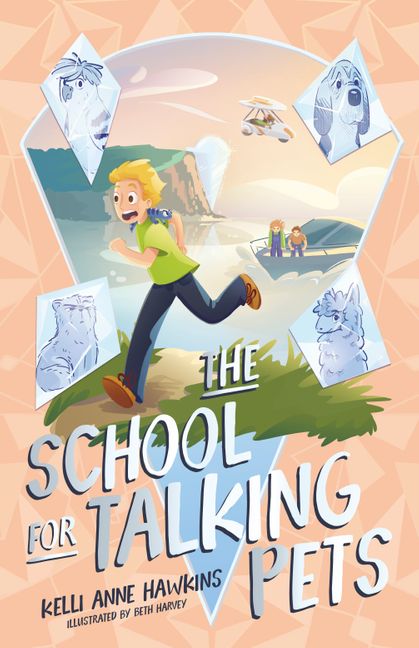 The School for Talking Pets
Written by Kelli Anne Hawkins
Illustrated by Beth Harvey.
Reviewed by Sandy Driessens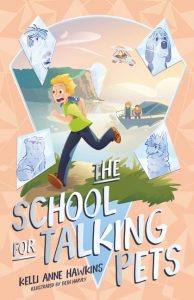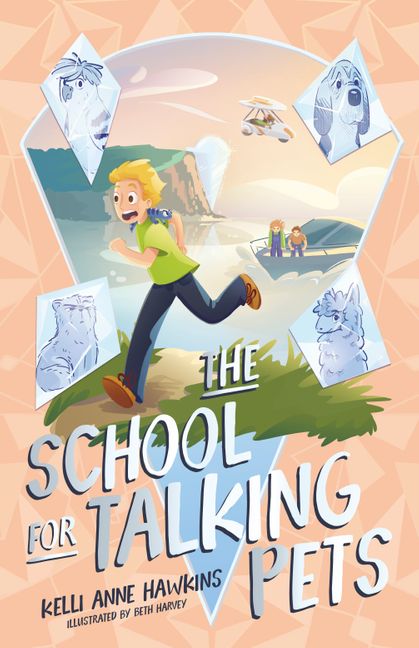 The cover of this book says it all. There's adventure, excitement, intrigue, talking pets and yes, "flying pigs".
Shy Rusty Mulligan enters a world-wide contest, to win a week at "Miss Alice Einstein's School for Talking Pets", because he would love to be able to talk to his best friend, a blue-tongue lizard named Bongo. To everyone's surprise, Rusty wins and the adventure begins.
He flies, with Bongo, from Sydney to London and then crosses in a speedboat to a secret island. The school is fantastic, filled with clever talking animals and really cool teachers.
Rusty and the other winners, with their pets, begin classes but there is something sinister afoot.  There are secrets everywhere: secret agents threatening the school, a secretive, tattooed gardener and the secret to teaching animals to talk. Will Bongo ever talk, will the school be shut down, will Rusty and his new friends have to save the day?
Kelli Anne Hawkins has written a story that will capture her readers with the first sentence. Her introduction to and description of her characters, both human and animal, paint a delightful picture. The conversations are humorous and consistent with language expected of young humans and animals. She injects wonder with interesting facts woven into the scenes and builds tension that culminates and is resolved happily.
Beth Harvey's illustrations are just adorable. In greyscale, they capture the characters and humour of the story. The full-page spreads and text interspersed images are placed precisely where they should be to be relative to the story. Cartoon-like, the personalities, emotions and movements of the characters echo Hawkins' text.
I thoroughly enjoyed this book and believe 8–12year olds will also. It's a read that will challenge their vocabulary while being comfortable enough to stay engaged. It's got everything for the young reader … a shy kid, bad guys and of course, wise and wonderful talking pets.