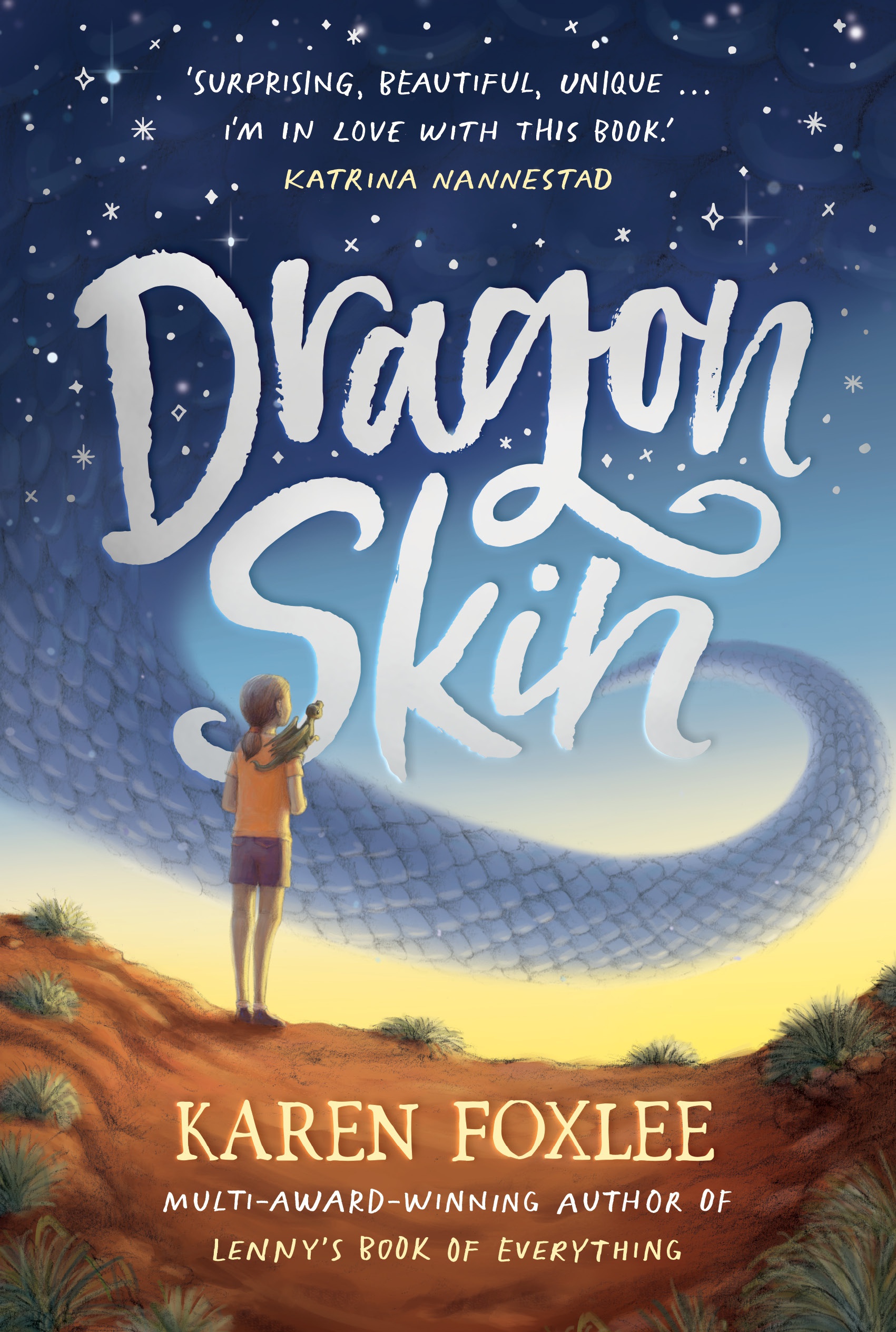 Dragon Skin
By Karen Foxlee
Illustrated by Dale Newman
Reviewed by Mia Macrossan
It is always something to celebrate when Karen Foxlee publishes a new book. She never writes the same thing twice. Each of her stories is different and come straight from the heart. Who can forget the experience of reading the heartbreaking Lenny's Book of Everything,  the wonder and magic of A Most Magical Girl and the delicious interplay of mystery, magic and adventure in Ophelia and the Marvellous Boy?
Karen is never concerned with what is fashionable or the issue of the moment but writes the story that she wants to tell. Her stories come from the heart.
Dragon Skin  is about a ten year old girl, Pip, living in Mt Isa who is coping with her changed circumstances after her mum's controlling boyfriend comes to live with them.  Pip likes to dig with a stick in the dirt, to upturn things, to search for treasure along the dried creek bed. One magical moment she finds a sick little creature which to her surprise and delight turns out to be a tiny dragon. She takes it home determined to help it survive and keep it secret and safe. She has always been a bit of a loner, especially since her onetime friend Mika has gone,  but she discovers that unexpected friendships form when she needs help with looking after Little Fella.
He scratches her and that is the beginning of Pip starting to grow another skin, one that enables her to cope with what is happening in her own home life. Karen cleverly interweaves themes of growing up, developing resilience, and becoming self aware into this metaphor of dragon skin.  As the dragon grows in health and strength Pip grows in confidence. As she sets him free she frees herself and her mother from their unhappy situation.
Karen  grew up in Mt Isa and this story is infused with her memories of her own untrammelled childhood. The heat, the dryness, the weather, the whole landscape of the area is written into the story with an almost painful intensity.
The issue of domestic abuse is a difficult one to put  into a children's story. I think the balance here is just right – not too much scary detail but enough to create a picture of what is happening. This is where skilful writing,  sensitive control of mood and tone is paramount. The juxtaposition of the rescue of the magical creature and Pip's home life is an inspired way to instil hope into a story where Matt is ' stealing all the oxygen. Her mother and her had to survive on small sips of air.'
A wonderful touching story about childhood, family, friendship, hope and magic.