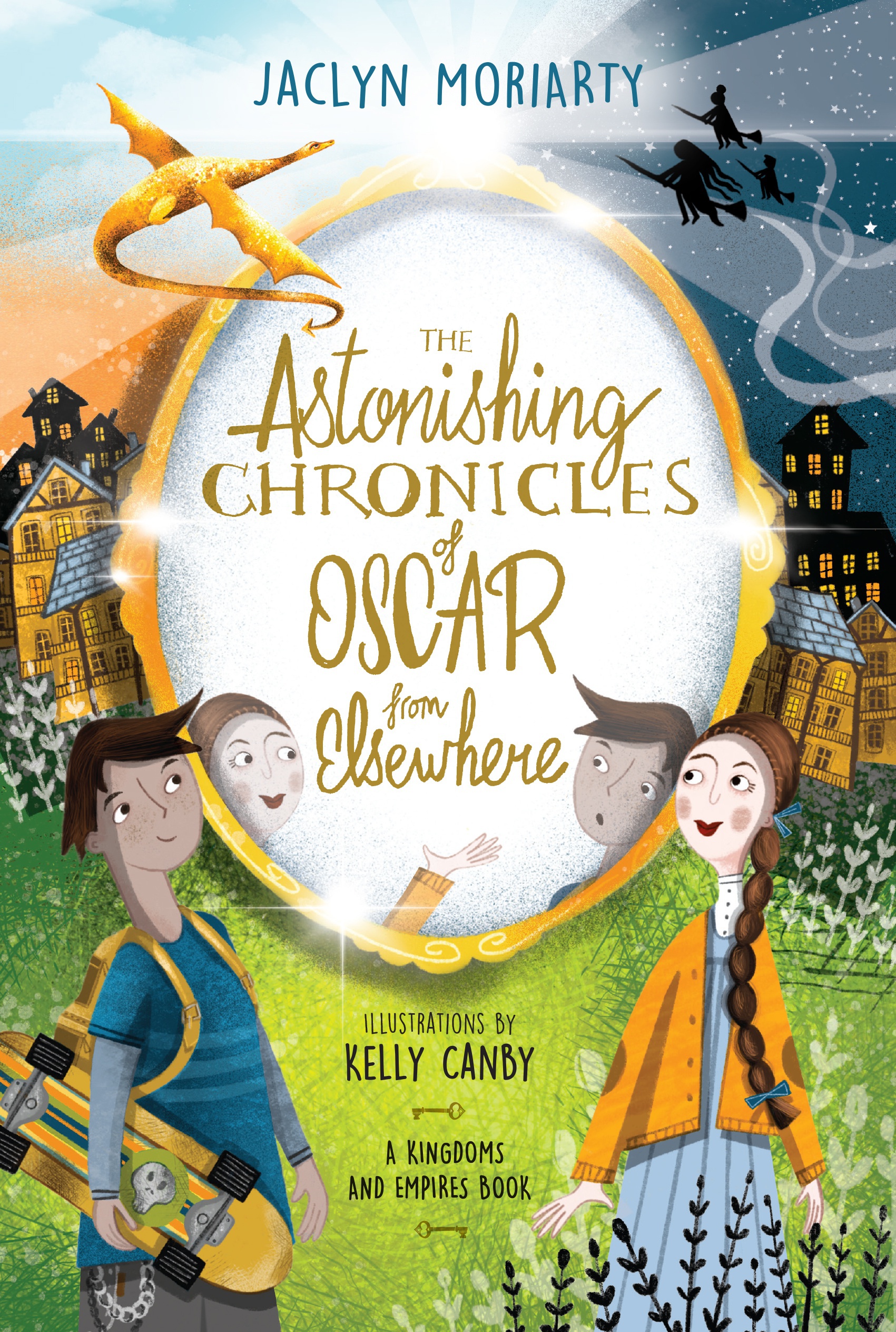 The Astonishing Chronicles of Oscar from Elsewhere
A Kingdom and Empires book
By Jaclyn Moriarty
Illustrated by Kelly Canby
Reviewed by Mia Macrossan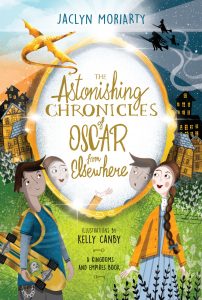 This is the fourth title set in the Kingdoms and Empires aimed at middle grade readers. Her previous award winning titles are The Extremely Inconvenient Adventures of Bronte Mettlestone, The Slightly Alarming Tale of the Whispering Wars and The Stolen Prince of Cloudburst.
This latest is different from these three in that it features a main character, Oscar, from our own world. He is a bit of a loner, loves his skateboard, gets into trouble at school, and has a devious sense of humour. Through his eyes we see all the vagaries, oddities and yes, magic that make up the world of the Kingdoms and Empires. The story is structured so that Oscar tells one half of the story and Imogen, one of the Mettlestone-Staranise sisters tells the other. She of course, is completely at home in her own world and finds Oscar strange and puzzling.
These two and five others, some familiar to those who have read the other books, are on an urgent quest to save the Elven city of Dun-sorey-lo-vay-lo-hey whose inhabitants have been trapped under a gluggy silver spell. They have seven days to locate nine separate pieces of a key, held by nine separate people, in order to unlock the spell otherwise the Elves would be crushed to death and Oscar would be trapped in this magical world forever.
Jaclyn is as inventive and funny as ever. The plot twists and turns, there are surprises and disguises, magic and mayhem, confusion and delusion as the seven race to avoid disaster. There is a warm humanity to Jaclyn's characters in that while many of them have impressive special powers they also have their share of human frailties which makes them particularly endearing. Kelly Canby's familiar illustrations add charm and a witty expressiveness in many challenging scenes.
This is a rollicking read, perfectly fine to read on its own but really enjoyable for those who are familiar with any of the other titles.