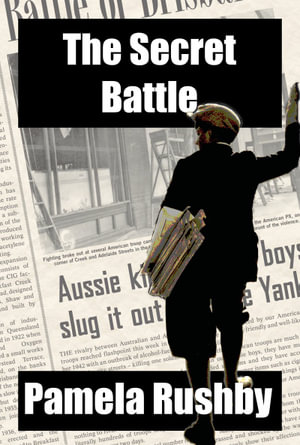 The Secret Battle
By Pam Rushby
Illustrated by Fiona McDonald
Reviewed by Margaret McKay-Lowndes
Pamela Rushby's previous historical fiction novels have included The Ratcatcher's Daughter (2014) and The Mummy Smugglers of Crumblin Castle (2020).  In each, her love of history shines through and this also true of her latest publication The Secret Battle, which focuses on Pamela's home town of Brisbane from 1941 until 1945. The novel provides a snapshot of life as it was for many with  a great influx of American soldiers, led by General Macarthur,  bringing with them a new sophistication and sense of glamour.
Roddy is 9 years old when we first meet him. He gets an after school job as a paper-seller, and sells his copies of The Telegraph outside Mama Luigi's, a real-life culinary trend-setter whose huge bowls of pasta are the stuff of legend in Brisbane. Various events in Roddy's life are related but the main focus is a two-day street brawl which occurred between the Australian and American soldiers. Guns were fired, causing a death and many injuries. The authorities covered it up so as not to inflame the populace and to this day there exists only a very watered down account of the startling events.
Pamela Rushby presents many day-to-day realities of war-time Brisbane in this simply told tale, including women  working in munitions factories, rationing, air raid shelters and war-brides who emigrated to America to follow the soldiers they had met in Brisbane. Some rumours are scotched, including the notorious tale of the Brisbane line, which claimed that the Australian Government was willing to cede the area north of Brisbane in the event of an invasion by the Japanese. It is clear that the facts have been well researched, and notes at the back of the book provide information for young readers.
Young readers interested in history, particularly those living in Brisbane, will find this an engaging and simply told tale.