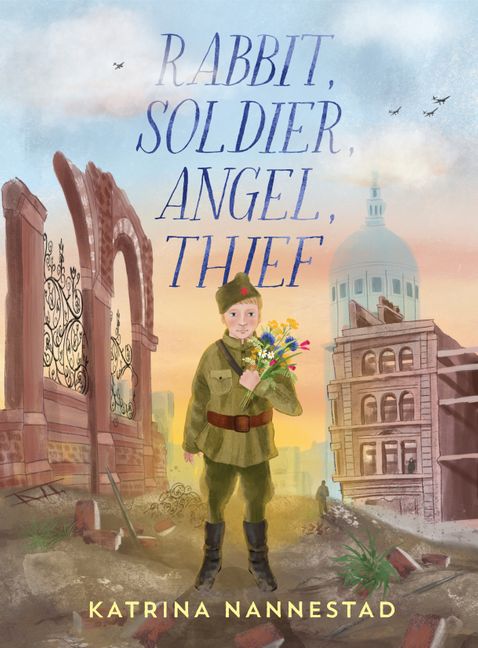 Rabbit, Soldier, Angel, Thief
By Katrina Nannestad
Illustrated by Martina Heiduczek
Reviewed by Mia Macrossan
This is very much  a companion volume to the award winning We Are Wolves, same topic, same illustrator, same book format but this time instead of seeing World War II  from a German family's  point of view we have a story about a little boy's experiences as a member of the Russian Red Army fighting to survive against the German advance. It was inspired by the story of real boy, Sergey Aleshkov, who was about six when he joined the Red Army.
Six year old Sasha has lost everything – his family, his home and his village. He is wandering lost and alone when he is adopted by  a band of Russian soldiers. They even sew him a miniature uniform. The members of the company become his family and he performs small jobs for each of them – cutting hair, shaving, bringing mail, fetching water. He does what he can to cheer them up dispensing lots of hugs, cuddles and kisses whenever he thinks they are needed. He becomes idolised and famous as The Angel of Stalingrad, and finally accompanies his group as they advance on Berlin where disaster so long avoided, strikes.
Sasha is ten when the war ends and we meet him first when he is in a hospital mute and badly injured. Through a series of items obtained by various means his memory of events is triggered and gradually we learn of his history  and the relevance of each word in the title.
This careful structuring of his story reveals the horrors of war for children in a way that makes it bearable and accessible to young readers. There is a lot written about the importance of  beautiful flowers, hugs, laughter, and the love and friendship between comrades and family which keeps the inevitable slaughter and destruction of war in perspective. It is never downplayed but the writing somehow creates a space that celebrates timeless values of family, friendship and belonging amidst the shocking violence.
One of the most powerful sections in the story is when the victorious Red Army invades Germany and takes revenge for the treatment they endured from the Germans. Using a boy's desire for a gorgeous toy truck that does not belong to him Nannestad illustrates how hurt and longing can create injustice and how one person's influence can change the balance between good and bad behaviour.
This timely story brings the past vividly to life for children learning about this period and when read together with We Are Wolves presents a scathing indictment of the folly of war as well as a passionate affirmation of the enduring power of love and family.
Highly recommended for both school and home libraries.