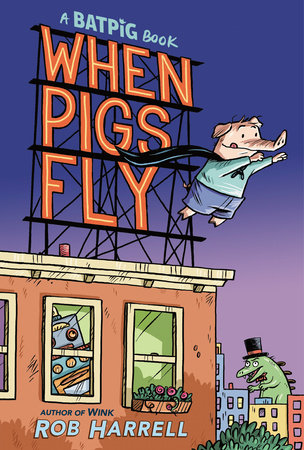 Batpig: When Pigs Fly
Written and illustrated by Rob Harrell
Reviewed by Sarah Custance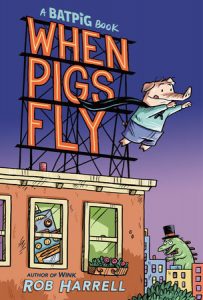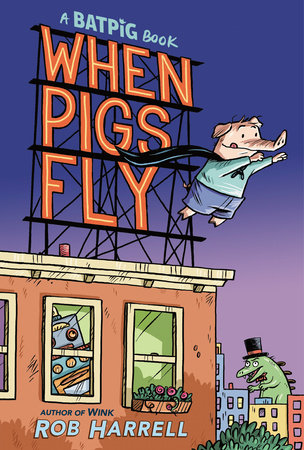 Rob Harrell is an author-illustrator of many books including the much acclaimed book Wink, in which the original concept for his newest graphic novel When Pigs Fly can be found among it's illustrations.
Gary Yorkshire was your average video gaming, sandwich eating pig, until he got bitten by a radioactive bat, also known as one of his best friends Brooklyn… So now he is Batpig!
As Batpig he must protect the city from terrible forces such as a potty mouth giant lizard, a butcher gone crazy, and a robot who can't stop  covering things in pastries. Through all of this Gary also has to deal with friendship dramas and a super annoying cousin who insults everything and hates superheroes. Is Batpig up to the challenge or will he be overwhelmed and chose to just stay in and continue to play video games?
Done in black and white illustrations, this graphic novel contains two separate stories (with a small bonus chapter) including the origin story of Batpig. With silly scenarios, ridiculous villains, sarcastic friends, and more potty jokes than should be legal, children will be in raptures over this new comic series.
Fans of the Captain Underpants and Dogman series will now be able to look forward to a new and similar series that will easily capture their attention from the get-go.