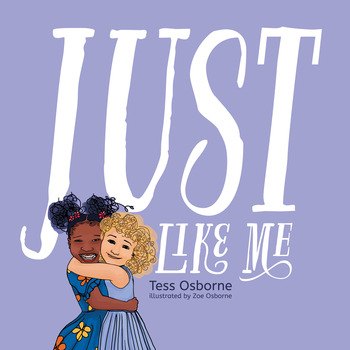 Just Like Me
By Tess Osborne & Zoe Osborne
Reviewed by Sandy Driessens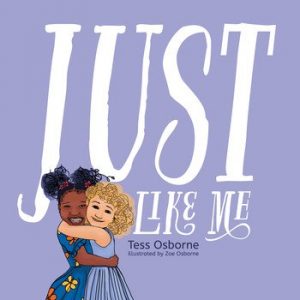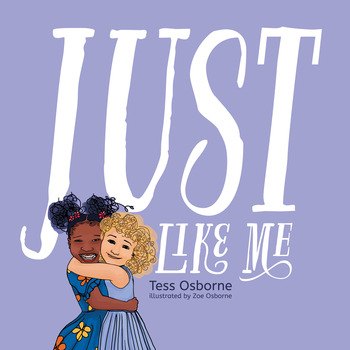 "A new girl started at my school today. She's just like me."
The new girl has a dog like me, a family like mine and feels sadness and happiness just like me. The little girl narrating this story is delighted to meet a friend with whom she has so much in common.
Tess Osborne has written a story about a friendship between two little girls whose lives are similar. Created for little ones, the language is short and simple with the repetition of "Just like me" to reinforce the theme. Read aloud, the message is clear … it's so good to have a friend who shares a life like mine.
It's the story, created by Zoe Osborne in the illustrations, that changes the intent of the book. Emotionally and socially, the little girls are similar, but the images clearly depict the ethnic difference between the little narrator and her friend. It also highlights the difference between their parent's careers, interests and physical capabilities (the narrator's father has a disability). The drawings of the characters are beautifully proportioned with colour and details that make me smile. Having the background, a different but basic colour, is a good ploy for retaining the attention of a young audience.
Based on Zoe's experience at preschool, this collaboration between mother and daughter, hopes to express, "The truth that comes with the innocence of children". This innocence 'sees' similarities not diversity.
Designed to illustrate that children are blind to difference, that it is a learned behaviour, will a young audience view this as such, only seeing a story of friendship or will it make them aware of the differences? In either case, the book emphasizes that diversity is a wonderful thing and if recognized, should only enhance relationships.
For 3 -5 years or for discussion by older readers.