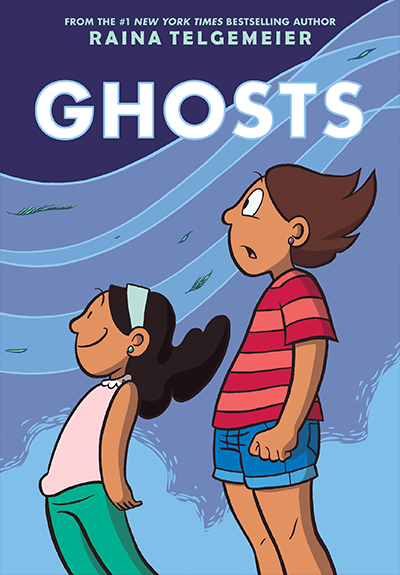 Ghosts
By Raina Telgemeier
Reviewed by Junior Reviewer Aaron Ding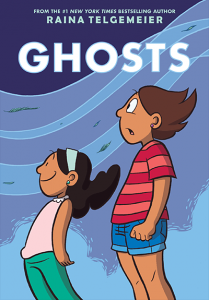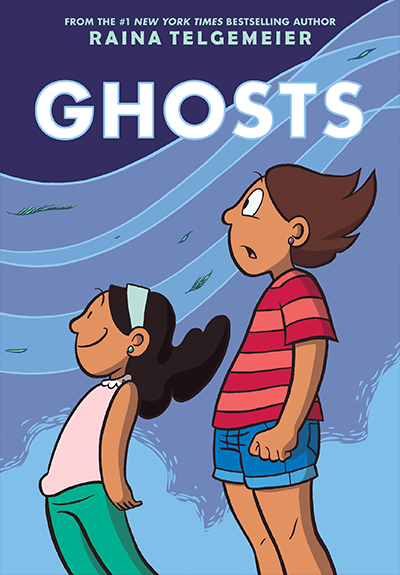 Ghosts is Raina Telgemeier's 4th award-winning graphic novel, following her acclaimed and award-winning Smile series which quickly gained her a huge number of fans. She is also an illustrator for the graphic adaptation of The Babysitter's Club.
Ghosts is a poignant and moving novel about living and letting go. Set in the foggy town of Bahia de la Luna it centres on Cat and her sister Maya, who has the rare Cystic Fibrosis condition. Moving to another totally different town was always going to be hard, and Telgemeier shows the new friends and a new home along with Cat's hesitation in accepting the new town and her uncertainties and insecurities. Full of creative characters and a vibrant, beautiful landscape, the artwork introduces us to the town and its secret – Cat doesn't believe it at first, but it is visited regularly by – as the title suggests – ghosts!
The plot takes readers on an exciting adventure, with Cat embracing the roots of her Spanish cultural heritage, making new friends and finding new parts of herself through the story. For Cat, it's a  path to acceptance of her sister's illness where with the help of her family and friends, she realises that although Maya may not be with her for much longer Cat can still hold on and love her sister to the end.
Telgemeier incorporates ghosts extraordinarily well into the story, providing a fantastical but realistic tale of the town's connection with the dead. She also beautifully weaves culture, friendships, family and even romance into the storyline, which personally made me feel I was in Cat's town, watching characters shape and grow. Although this book is aimed towards teenagers, I bet anyone of any age would love this book.
4.5 stars!
Scholastic 2016