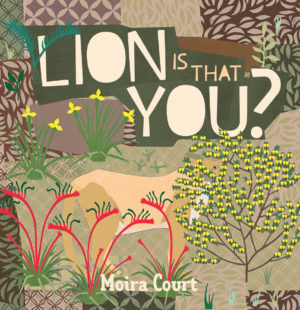 Lion Is That You?
By Moira Court
Reviewed by Margarite Igras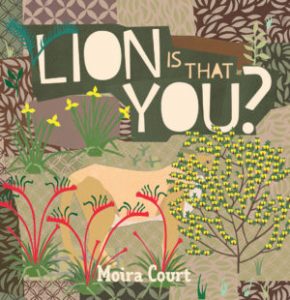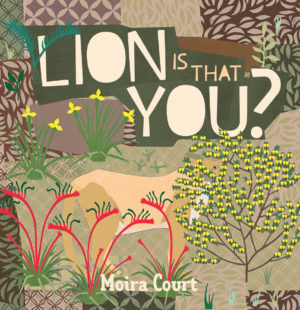 Author and illustrator, Moira Court, has created this captivating picture book of discovery. The reader is led to believe that there could be some lions in the Australian bush. Lions, that once belonged to a travelling circus. Could they still be there, lurking and watching?
The title of the book invites the reader, from a safe position, to search for the elusive lions. Each page is filled with textures and subtle colours, patterned papers, and clever collage that camouflage the animals. Can the reader find them amongst the patterns and textures?
The text is in verse.  Some words are enlarged to emphasise the characteristics of a particular animal – pine-cone scales, stumpy tail, hooked beak, long curved claws. Each page begins with the repetitive words, "Hey Lion" in large print, as if the reader needs to shout it out to ensure it isn't there. The text gives clues for the camouflaged animal that appears on the next page.
The reader is introduced to a range of Australian bush creatures from the venomous Dugite snake, the Bobtail lizard, echidna, goanna, bandicoot like Quenda and Redcap parrot. But the question remains – are the lions out there?
This book for young children is a visual quest, a simple, informative read about Australian animals and, with the verse text, joyful to read.
Fremantle Press 2022