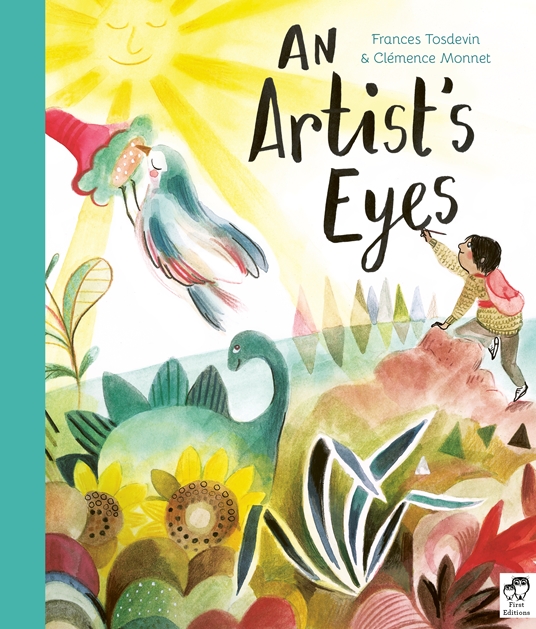 An Artist's Eyes
Written by Frances Tosdevin
Illustrated by Clémence Monnet
Reviewed by Sandy Driessens
Mo's eyes and Jo's eyes look the same. But Jo's eyes are different.
Mo has an "artist's eyes". She sees colours in a dazzling array of shades that conjure images of objects that display those colours. Try as he might, Joe could not "see" those colours as Mo does. "Just trust your own eyes, Jo," said Mo, sensing Jo's frustration. "See what they show you." So, trying with all his "sight", Jo finally sees fantastic images, but not as Mo sees them. Using his imagination, Jo sees colour in his own way – in lines and shapes. Can Mo also see the wonderful colours that Jo sees?
Frances Tosdevin, English journalist turned children's author, has created a lovely conversation between Mo and Jo. The voice of Mo is tranquil and delightfully descriptive while Jo's is searching and hesitant until he becomes confident in his vision. Clearly delineating between "looking' and "seeing", Tosdevin's use of imagery and alliteration creates its own art.
French artist, Clémence Monnet uses a mixture of watercolour, Indian ink and coloured pencil to create a whimsical air in this book. Of course, with the subject about art, two-page spreads of a designated colour, with shade and shape variation complement Tosdevin's story. The naïve images are simple and direct to eye to the subject described in the text.
We encourage art in very young children but, "there is an artist in all of us." This is a story about building confidence to use your imagination, to "see" from your own perspective, rather than trying to be just like others. Art is subjective and, if unrestricted, develops wonderfully.   I believe this story would be inspiring for artists aged 4- to 80- years old.