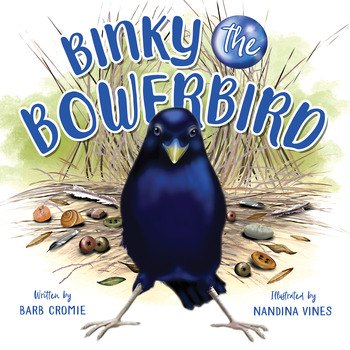 Binky the Bowerbird
Written by Barb Cromie
Illustrated by Nandina Vines
Reviewed by Sandy Driessens
Binky the Bowerbird is on a mission to find his true love.
His parents have tried to teach him all the skills required to face the world and find a mate, but they are worried. While the other bowerbirds find their mates, with their beautifully decorated bowers, Binky seems to have trouble finding someone who appreciates his unique tastes. He is a very handsome Satin Bowerbird and works hard to build an enchanting, sparkly bower, but will Binky find a mate who sees his creation quite like he does?
In her debut book, Barb Cromie has written a charming story with text that is informative, descriptive and will be easy to read aloud.  Personifying the emotions of Binky and the other birds highlights the effort made by Binky and his confusion at his lack of success. Cromie has also interpreted the characteristics of bird gestures that make them delightful.
Nandina Vines, a Little Steps illustrator, uses digital art to good effect in this story. She captures the smooth, shiny plumage of the Satin Bowerbird with airbrush whilst creating clarity and sparkle in the bowers and their treasures. The placement of her images around the text almost creates the feeling of being safe within a bower, in the forest.  The colours she uses, which are most important, do reflect well, the colours of nature.
I enjoyed this picture book. Addressing diversity, in this case, in the form of colour-blindness, I believe it would engage a 5- to 9-year-old audience. This story about a fascinating bird is enhanced by the unique view some individuals have of the world. Colour-blindness is rarely discussed and I feel this story could be an appropriate introduction.